« Back to Facilities Management News Home
High-Pressure Valves Target Safe Plumbing Pressures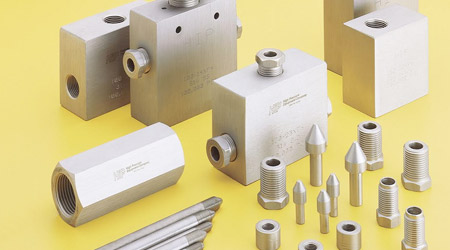 High Pressure Equipment Company (HiP), a subsidiary of Graco Inc., introduces new sizes to its family of ultra high pressure valves, fittings and tubing. HiP has added 3/8" and 9/16" O.D. valves and fittings designed to ensure safe and easy plumbing for pressures up to 100,000 psi. The new sizes of valves are available in four body styles - two way straight, two way angle, three way/two inlets and three way/one inlet.

Accompanying 100,000 psi 3/8" and 9/16" O.D. fittings include check valves, elbows, tees and crosses. Ultra high pressure tubing and coned-and-threaded nipples are also available. HiP's ultra high pressure products are designed for waterjet cutting and blasting, as well as oil/gas and certain industrial applications.

The new 100,000 psi valves feature 316 stainless steel high tensile bodies, non-rotating stem tips to ensure a long life on valve seats, packing below the stem threads, a positive gland locking device and the valve's stem needs no adjustment. These valves and fittings use coned-and-threaded connections, which accommodate the extreme conditions common in these applications.
More From 3/18/2019 on FacilitiesNet