« Back to Facilities Management News Home
Expanded Toilet Tank Line and Versatility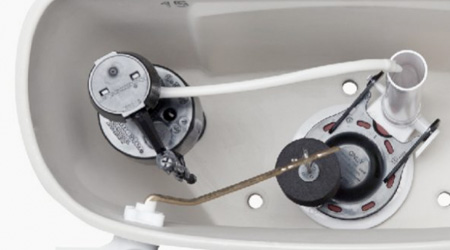 Plumbing professionals have a reputation to maintain, and Mansfield has long been a preferred brand of tradesmen everywhere for its performance and reliability. Mansfield continues that tradition with the launch of Summit Pro, an extension of the well-known Summit line with a unique tank exclusively available through its wholesale partners. The optimal technology and Mansfield's No Call-Back Guarantee makes follow-up service calls a concern of the past, while a color match metal trip lever and faceted tank lines blend nicely with any décor. Summit Pro satisfies the needs of both the professional and the homeowner – making it an easy choice for service calls and new installations.

Specifically designed with the plumbing professional in mind, Summit Pro provides confidence in three main ways:


Versatility: With attractive, universal styling, a color match metal trip lever and five different bowl configurations (12" and 10" rough-in sizes) with right- and left-hand tank options, Summit Pro is sure to meet the needs of any bathroom project.
Dependability: Reliability is everything. The Summit Pro tank features the Fluidmaster fill valve – a name professionals know and trust. To further prove Mansfield's confidence, the company is offering a No-Call Back Guarantee to licensed plumbing contractors on top of the limited lifetime warranty on china and five-year limited warranty on tank trim.
Performance: For a high-performance flush system, Summit Pro is also equipped with Mansfield's own 3" Rigid Flapper flush valve to bring more consistency and require less force to flush. Not only is Summit® Pro certified with 1,000 gram MaP rating at both 1.6 and 1.28 water consumptions, but it also delivers superior drain line carry. That means more waste is removed from the bowl and carried further away from the house.

"Summit Pro is that go-to toilet that every plumber wants to stock on their truck for service calls. It's got the power and style homeowners want with the easy installation and reliability plumbers need. Set it, and you're on to the next job," said Stephanie Radebaugh, sanitaryware product manager. In addition to these features, a SmartFasten™ tank-to-bowl connection system makes installation easy and provides a sturdy, leak-free connection between the tank and bowl, reducing the need for a return service visit.
More From 10/11/2018 on FacilitiesNet