You Might Like
On FacilitiesNet
« Back to Facilities Management News Home
During Hospital Renovation, Temporary Wall System Protects Patients and Staff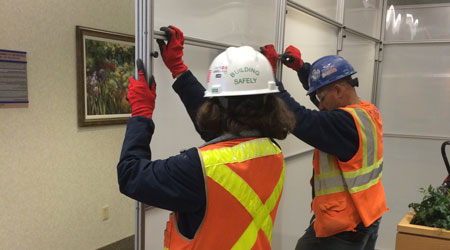 Any construction, renovation and repair activities in hospitals and health care facilities can create or disturb particles, and cause them to become aerosolized. This, of course, is why infection control measures are put in place: to make it as difficult as possible for microorganisms to survive. Or, at the very least, to eliminate their presence in environments where immuno-compromised patients reside.
In 2014, the results of a Healthcare-associated infections (HAI) prevalence survey were published by the Centers for Disease Control and showed that in 2011 an estimated 722,000 patients in U.S. acute care hospitals developed HAI. Out of the 722,000 affected patients, approximately 75,000 of those patients died during hospitalization. While it is impossible to measure the exact number of patients that devolved HAIs from facility related construction activities, the survey analysis concluded that each year an estimated 5,000 patients develop an HAI that ultimately leads to death, as the result of ongoing construction.
Construction Barrier
While performing extensive renovations to Inova Health System's Fair Oaks (Va.) Hospital, Clark Construction Group had to balance its construction work with the hospital's need to maintain 24/7 operations.
Renovations to the hospital's surgical and patient care areas required a temporary wall system to separate the medical and construction areas. Keeping the hospital's clinical services available required several hundred linear feet of temporary infection control partitions that needed to be built and removed for several phases.
Wanting something more efficient than the traditional costly drywall system, Clark's superintendent identified the Edge Guard panel system that could be assembled and disassembled by virtually any project team member with almost no tools and minimal waste. The system also integrates ICRA barrier requirements, including pressure monitoring, notices, security, and filtration. Edge Guard allowed the construction team to easily build and deconstruct barriers in sensitive areas and the system can quickly be reconfigured as necessary, providing for greater patient protection.
"These reusable, light-weight panels separated the medical and construction areas and enabled the hospital to continue critical medical operations 24-hours-a-day while our team completed the various scopes of work. Nearly any member of our project team could assemble the panel walls in a matter of hours with only a ladder. This solution, didn't generate any dust and was cost-effectively reused for multiple work phases. Inova couldn't be more pleased," commented Brian Hetherington, senior superintendent for Clark Construction Group.
When the Inova Fair Oaks renovation work is complete, the wall panel system will come down and be used on another project. But, as a result of the project team's thoughtful approach and diligent research, they will bring more than just lessons learned to their next healthcare renovation site.
Project:
The Clark team will renovate 29,000 square feet of the existing hospital, including the post-anesthesia care unit, sterile processing area, pre-operation area, operating rooms, surgery locker room, and waiting areas. The team also will demolish a chiller plant and construct a new two-story surgery department expansion, adding 26,000 square feet and additional operating rooms to the existing hospital. Additionally, the team will construct two temporary loading docks to use during construction and relocate the hospital's air handler unit from the ground floor to the roof.
More From 10/14/2016 on FacilitiesNet