« Back to Facilities Management News Home
Cordless Power Tools and Productivity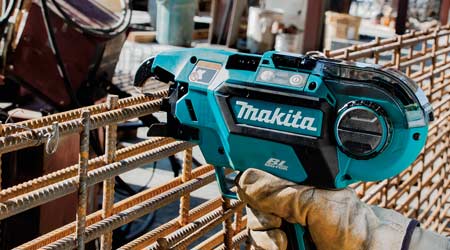 Makita U.S.A., Inc. has delivered a cordless tying solution for rebar with the 18V LXT Lithium-Ion Brushless Cordless Rebar Tying Tool (XRT01ZK) and Kit (XRT01TK).

The new XRT01 delivers both time savings and ease-of-use. It takes the rebar tying process from two hand to single hand operation, and presents an opportunity to speed up the task for all skill levels, from apprentice to skilled journeyman. It is ideal for concrete contractors, pool and patio contractors, electricians and plumbers.

World's Largest Cordless Tool System
The new Rebar Tying Tool is part of LXT, which offers over 200 cordless solutions and is the world's largest cordless tool system powered by 18V lithium-ion slide-style batteries. Makita 18V Lithium-Ion batteries have the fastest charge times in their categories, so they spend more time working and less time sitting on the charger.

Category-Leading Performance
The tool has a tying capacity of up to 5,300 ties of #3 x #3 diameter rebar on a single charge of an 18V LXT 5.0Ah battery, twice the run time of the leading cordless competitor in the category. The XRT01 can tie two #5 diameter bars or four #4 diameter bars in under 1 second. Users can digitally adjust the tying strength to match various tension strength requirements.

Added features include 2 mode operation (single or continuous wire tie actuation) for fast and efficient tying, and an easy-load design for wire reel changes that includes an automatic locking mechanism built into the protective cover. Each wire reel delivers up to 120 ties of #3 x #3 rebar. It features a Makita Brushless BL™ Motor engineered to run cooler and more efficiently for a longer life than standard motors.

Star Protection for Longer Performance Life
The Rebar Tying Tool and over 200 LXT cordless solutions feature Star Protection Computer Controls™. Star Protection is communication technology that allows the Star Protection-equipped tool and battery to exchange data in real time and monitor conditions during use to protect against overloading, over-discharging and overheating. Makita lithium-ion tools, batteries and chargers are backed by a 3-year limited warranty.

The kit includes the Rebar Tying Tool, two 5.0Ah batteries, a Rapid Optimum Charger, hex wrench, belt clip, and tool bag.
More From 12/10/2018 on FacilitiesNet