« Back to Facilities Management News Home
CetraRuddy: New Open Office Design for Corcoran Group is Catalyst for Collaboration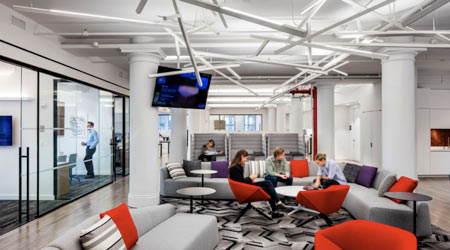 New York City — June 28, 2016 — Could a new workplace design encourage collaboration and increased sharing of information among high-speed Manhattan real estate agents? For a vaunted high-end brokerage firm, this theory is now being tested in its relaxed, airy, and employee-focused new SoHo offices, designed by renowned architecture-and-interiors firm CetraRuddy.
According to CetraRuddy, the 15,000-square-foot workplace for The Corcoran Group has transformed the corporate atmosphere through both stylistic and functional changes. (See photos.) Isolating individual cubicles previously used by the real estate brokers were replaced by an open benching system that encourages collaboration and community. All conference spaces and private offices have glass walls, allowing sunlight to penetrate the entire office and create a sense of trust and transparency.
To encourage relaxation and interaction, CetraRuddy's Nancy Ruddy, the cofounder and executive director of interior design, and colleague Patricia Duval created a large open lounge with soaring ceilings. This new heart of the SoHo organization includes banquettes and movable seating so staff can adjust their environment for their needs.
The new lounge space is an environment where people can meet informally, work with technology, and share meals, or take a relaxing break from work being done either at their desks or out exploring the streets of New York City with clients.
Designed with an understanding that people's full lives affect their work life, a number of new amenities help agents feel whole and happy. These include a meditation room, private break spaces, lounge-like "telephone booths," and various ways to enjoy food and beverage while sitting or standing.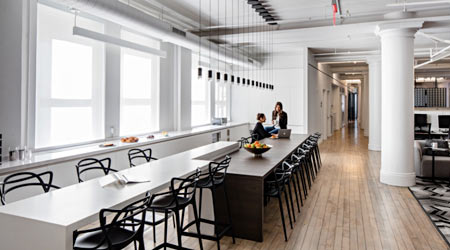 Lighting adds to the energizing feeling of the office, with a combination of environmental lighting, task lighting, and two light sculptures, designed by CetraRuddy.
While the offices are open and bright, gestures such as a custom glass tile screen in the lobby also provide privacy and separation, which is often needed in the world of real estate transactions.
In other fields, changes like these have been more common, Ruddy said. "Yet, real estate has been among the last industries to abandon traditional cubicles and hard-wall offices that create effective private workspaces but also lead to isolation and reduced teamwork."
Working with Pamela Liebman, Corcoran president and CEO, CetraRuddy aimed "to create a setting that would encourage collaboration and communication, eliminating the silo-type environments seen in real estate offices and creating a sense of home," Ruddy said. Corcoran executives say the result has been transformative, with more conversation, greater collaboration, and a growing sense of community.
The office design also embraces the Corcoran brand, with a downtown SoHo flair. Wide-board wood floors, handcrafted details such as a sculpted glass and metal screen, and floor-to-ceiling sliding glass panels add to the loft-like feeling throughout the space. Celebrating the historic building, monumental columns are accentuated with light.
"CetraRuddy did a fantastic job designing a tech-savvy space both functional and beautiful that incorporates the historic elements of a SoHo loft and is responsive to the people in it," Liebman said. "This office truly embodies the Corcoran motto, 'Live who you are.' We couldn't be happier with the results."
Corcoran is a real estate brokerage firm with over $21 billion in sales in 2015. It has over 1,200 agents in 40 offices in the New York City, east end of Long Island, Palm Beach, Fla., and Delray Beach, Fla., markets.
Established in 1987, CetraRuddy is a global architecture, planning, and interior design firm. For more information, visit www.cetraruddy.com.
More From 6/30/2016 on FacilitiesNet