You Might Like
On FacilitiesNet
« Back to Facilities Management News Home
Permatron's PreVent System - Air Intake Filter Screens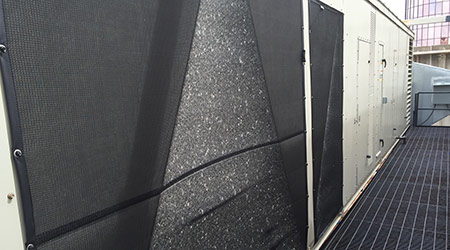 Facility managers know that HVAC systems with clogged evaporator and condenser coils can drag a system down. The dirty system has to work harder, resulting in reduced life span, increased energy usage and maintenance downtime. The PreVent® System stops airborne debris before it ever gets inside the HVAC air intake. Customized to meet any equipment air intake or ventilation inlet and outlet challenge, PreVent filter screens are easy to install, indoors or outdoors, with our patented magnetic no-drill mount options. Cleans in minutes with a broom, brush or shop vac. Start saving today.
• By using the PreVent System, seasonal filtration costs were reduced by almost 70% and maintenance/cleaning man-hours are about a third of what they were.
• Equipment with dirty coils can use as much as 37% more energy than units with clean coils – a 10 ton AC system now only provides 7 tons of cooling.
• Dirty condensers restrict heat transfer, causing the compressor to work harder, rising head pressure results in a loss of cooling capacity of up to 30%.
• Coil cleaning procedures cost $500-$6,000 per cleaning. Large facilities with 100 air-handling units can average 200 coil cleaning procedures annually.
• Preventative maintenance (like keeping evaporator and condenser clean) doubles the useful life of unitary equipment and shows a reduction in repair costs by 30%.
• HVAC equipment accounts for nearly 40% of total global building energy consumption, commercial buildings consuming about 12% of the world's energy supply. Lowering operating costs/energy usage will lower the impact on the environment.
More From 9/5/2019 on FacilitiesNet