« Back to Facilities Management News Home
Expanded Paper Product Line Made From Recyclables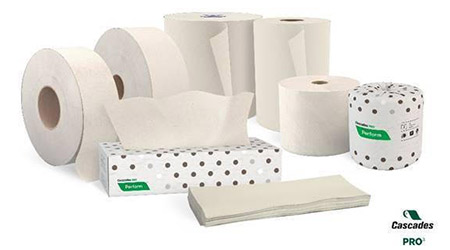 Cascades Inc. announces the launch of the Latte Collection. Available within the Cascades PRO Select and Cascades PRO Perform collections of paper towels, toilet paper and facial tissue, this new line is manufactured from a combination of white recycled fiber and cardboard, providing customers with a solution that delivers the same great performance as white paper products, but at a reduced cost.

The demand for virgin pulp is increasing, and this trend is not expected to slowdown before 2021. Combined with an industry-wide shortage of good quality sources of recycled fibers, these market conditions have resulted in record high price increases for customers looking for white paper products.

"Thanks to the concerted efforts of our research and development and innovation teams, Cascades has developed its new Latte collection, a solution that makes it possible to counter the impact of raw material price increases without compromising on the quality and ecological attributes of our products. The distinctive Latte colour is created by combining white recycled fibers and cardboard, delivering an end result that is equivalent to white products in terms of quality. This new product line is not only a green solution, but also provides our customers a cost-effective offering that will meet their paper towels and tissue needs" commented Cascades Tissue Group President and Chief Operating Officer Jean-David Tardif.

Our paper towel and toilet paper offerings undergo all the stringent requirements needed to ensure a Green-e, Green Seal, and UL/Ecologo certified end product.

"Cascades' alternative to white paper products provides our customers with an excellent alternative solution that will help them counter higher prices that will touch all industries in the coming years. In particular, we expect the Education, Foodservice, and Business Office markets to see some of the greatest benefits." said Sandra Hudon, Vice President of Sales, North America, for Cascades PROTM.

The Cascades PRO brand offers hand towels, bath tissue, napkins, kitchen roll towels, facial tissue, wipers and dispensers. Sold through distributors, Cascades PRO delivers proven, cost-effective hygiene solutions – from bathroom to boardroom to lunchroom to classroom and beyond – with a wide range of product lines that get the job done.
More From 4/12/2019 on FacilitiesNet