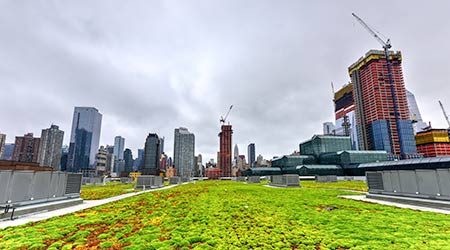 Green Roofs and Their Benefit to IAQ
Green roofs have gained in popularity in recent years as facility managers have searched for opportunities to minimize the environmental impact of institutional and commercial facilities.

Covering roofs with plants can improve the quality of air inside the building and lift property values, according to a growing body of green infrastructure research.

Now managers looking to build the case for investing in these green systems might be able to point to even more potential benefits from vegetative roofs.

U.S. researchers have found that growing greenery on the roof of a building and near the air intakes could help to reduce the interior levels of ozone, one of the gases which makes up smog and is harmful to breathe, according to Domain. The pilot study on the impact of green roofs on ozone levels near building ventilation air supply showed a green roof could reduce the ambient ozone level by up to 1.3 percent.

A green roof can be a roof surface completely covered with vegetation or rooftop facilities that include planted trees and other greenery. Another benefit was reducing the urban heat-island effect, a phenomenon where urban areas hold more heat due to high concentrations of concrete and a lack of vegetation, she said.

Dan Hounsell is editor-in-chief of Facility Maintenance Decisions.

---