Facility Manager Cost Saving/Best Practice Quick Reads RSS Feed
City Ordinance Requires Green Roofs
February 8, 2018 - Contact FacilitiesNet Editorial Staff »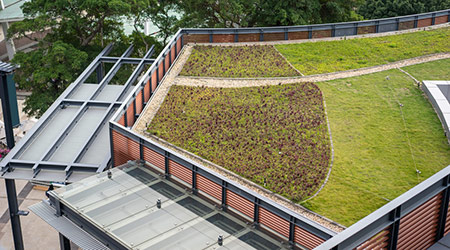 In an effort to become more energy efficient, the city of Denver has voted and passed the Green Roof Initiative.

Effective as of Jan 1, 2018, Denver became the nation's most stringent, far-reaching mandate for rooftop gardens — a requirement that will affect both the developers of larger new buildings and the owners of many existing structures when they undergo roof replacements, according to an article in the Denver Post.

The building industry still is working to understand how plans and budgets will be affected by the new requirements — which generally apply to structures with at least 25,000 square feet of gross floor area underneath the roof. Site-plan filings for new development projects show evidence of a small, late-December rush of submissions to the Denver planning department in an attempt to beat the green roof ordinance's Jan. 1 effective date, but the large surge expected by some observers didn't materialize.

And starting in May, when a six-month prohibition of any meddling with voter initiatives expires, the City Council can, with a two-thirds majority, make changes to the detailed new ordinance.

The initiative's backers were motivated by the goal of reducing Denver's urban "heat island" effect from heat-radiating roofs, but several issues could come up in the discussion.

Among those are costs for developers, use of the fees that will be charged for buildings that get variances, watering requirements in Denver's semi-arid climate, whether the initiative is complicated by Colorado water rights laws and how it will affect large developments planned by the city — including as part of a $937 million bond package that also won voter approval last month.

Denver's new rules, which allow the use of solar panels to offset some rooftop garden coverage requirements, will exceed those set out by green-roof pioneers San Francisco and Toronto. Those cities apply green-roof requirements to new buildings, but not to roof replacements on existing buildings that meet size thresholds, as Denver's new law does.

Supporters of the new law point out that green-roof technology isn't new and has been used successfully on new and retrofit projects of varying kinds. For new roofs, estimates range between $25 and $35 a square foot, with the prospect of energy-use savings as an offset.

This Quick Read was submitted by Ryan Berlin, managing editor of Facility Maintenance Decisions.
---
Comments