Roof's Talents a Good Match for Performing Arts Center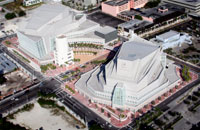 At the Carnival Center for Performing Arts in Miami, Fla., the roof is by no means a bit player.
February 14, 2011 - Roofing
At the Carnival Center for Performing Arts in Miami, Fla., the roof is by no means a bit player. Occupying more than a half-million square feet, Carnival Center is one of the largest performing arts halls in the world. It houses a 2,400-seat ballet opera house, a 2,200-seat concert hall, a 3,500 square feet arts education center and a café.
Integral to Carnival Center's design physique, the roof is intended to do more than keep the performers dry. It is composed of many decks, some with steep sloped pitches, and highly visible from the street.
A 45-mil fully adhered FiberTite Fleece Back system was installed in part for its custom color matching ability. The company formulated a custom color so that the roofing membrane would match the natural granite colored stone of the building.
The roof's unique design with uncommon roofing details posed some installation challenges. The membrane had to be attached to two different kinds of substrates, structural and lightweight concrete. A special drainage system needed to be constructed of huge open concrete grates to catch the volumes of water that run off the building.
In a hurricane-prone region, the roof would have to do more than just look good. Another factor in its selection was the system's track record for longevity in extreme weather. The product had to meet a set of stringent building approvals set by Miami Dade County, the center's owner. Included in these approvals was a requirement for superior wind uplift resistance.
Hurricanes Wilma and Katrina, among the fiercest Atlantic Hurricanes on record, passed over the construction site while construction on the building was in progress. The 180,000 square feet membrane roof remained in tact.

---
Comments