Spotlight on Elastomeric Coatings: What You Need to Know
Durable and not easily cracked, elastomeric coatings are also effective at sealing roof leaks and preventing existing damage from worsening.
OTHER PARTS OF THIS ARTICLE
Pt. 1:
Roof Coatings: Top-Level Protection
Pt. 2: This Page
Pt. 3:
Roof Coatings: Inspection and Testing to Ensure Proper Installation
Pt. 4:
Understanding Maintenance Requirements for Roof Coatings Systems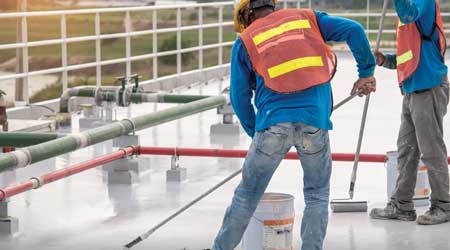 No matter the type of roof, managers need to understand the materials and performance characteristics of roof coatings to effectively match them to the in-place roof system.
Typical SPF elastomeric coatings are urethane, acrylics or silicones. These coatings must contain properties SPF membranes do not contain, such as abrasion resistance, chemical resistance, elongation, hardness, impact resistance, tear strength and tensile strength. If the coating contains properties the membrane does not, the two together form an extremely robust roof system.
Elastomeric roof coatings are made from polymers, which are formed from exceptionally large molecules that tend to exist in an amorphous rather than crystalline state. Elastomeric roof sealers – acrylic, butyl, polyurethane and silicone – create a waterproof and weatherproof seal when applied to a roof.
Acrylic is one of the most long-lasting materials for a roof coating. It provides good insulation, which is essential for keeping energy bills low. Acrylic is most appropriate for high-sloped roofs. Butyl elastomeric is ideal for low-slope and flat roofs, and it provides a good vapor barrier and resists water pressure. Polyurethane bonds well with EPDM rubber roofs. It has excellent waterproofing and leak-sealing ability, and since it needs no special chemical rinse, it can be an effective choice for single-ply roofs. Silicone is an appropriate coating for polyurethane foam roofs. It can resist some types of weathering and is effective for applications that require multiple coats.
Elastomeric coatings have elastic properties, so they do not crack easily. Some elastomeric coatings have special properties, such as 600 percent or more stretch, resistance to weather change cracking, better insulation and good adherence if painted over. With regular maintenance —including re-coating every 15-20 years and repairing damaged seals — elastomeric coatings can deliver long performance lives and, therefore, low life-cycle costs.
Elastomeric coatings are effective in sealing roof leaks and preventing existing damage from worsening. Since they are durable and have a range of beneficial properties, they can be applied to the roof during any season. The components form a strong bond, which means that the finished product forms a strong membrane across the roof. It is important to spray-apply coating around protrusions, such as drains, vent pipes, equipment anchors, electrical and refrigerant raceways. When the coating is applied to these objects where they protrude through the roof membrane, it joins with the seamless surface for maximum durability and water resistance.
Silver-fibered aluminum roof coatings can be an economical choice for applications on worn asphalt roofs or metal roofs. One gallon covers 50 square feet on asphalt roll roofing and 75 square feet on bare metal. The coating's silver color reflects sunlight and minimizes heat buildup, something black asphalt does not, and it cleans up with soap and water.
Hot asphalt coatings are applied before dispersing gravel over gravel roofs in order to hold the gravel in place. Technicians can apply these coatings over existing gravel roofs.
One caveat regarding coatings specification: Due to the proprietary nature of some coatings, managers might not be able to identify their contents during selection. Even the coating's safety data sheet might contain statements about the presence of proprietary material content.
Continue Reading:

Roof Coatings

Roof Coatings: Top-Level Protection

Spotlight on Elastomeric Coatings: What You Need to Know

Roof Coatings: Inspection and Testing to Ensure Proper Installation

Understanding Maintenance Requirements for Roof Coatings Systems
---
---
---
Related Topics:
Comments