Roof Coatings: Inspection and Testing to Ensure Proper Installation
The process of successful roof coating specification is not complete without making plans for inspections, application considerations, and post-installation maintenance.
OTHER PARTS OF THIS ARTICLE
Pt. 1:
Roof Coatings: Top-Level Protection
Pt. 2:
Spotlight on Elastomeric Coatings: What You Need to Know
Pt. 3: This Page
Pt. 4:
Understanding Maintenance Requirements for Roof Coatings Systems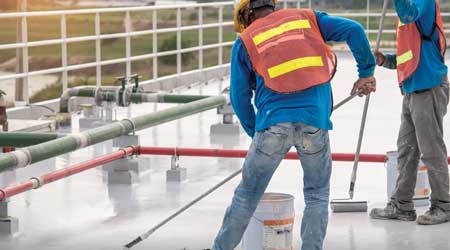 Technicians need to perform a particularly thorough inspection before applying a coating on an older roof and an overlay over the original roof. The overlay tends to be less stable because of the likely instability, defects and leaks in the aged original roofing beneath it.
The technicians need to take special care with drains, scuppers, flashing and penetrations, as well as with seams to ensure they are stabilized and repaired before the coating application. Also, managers need to evaluate the total load of the original, overlay and coatings to ensure it does not exceed the load limit for the supporting structure.
Some coatings applied over Hypalon, EPDM and TPO require a wash and then a primer in order to adhere to a non-adherent surface before applying the finish coating. Other acrylic coatings are formulated to apply directly over aged single-ply roofing without the wash and primer steps. This direct application can save time and labor that is required to collect the toxic power-wash water and apply the primer.
Before handling or using any roof coatings, technicians need to read the product's safety data sheet (SDS). If the roof material content is proprietary, the manager can seek advice from the manufacturer to find the coating that works best, as well as the personal protection equipment that technicians will need. Some SDSs state that the products can result in skin burns, especially in extremely hot weather, so even though the chemical makeup is proprietary, they advise wearing long-sleeved shirts, pants, gloves, eye protection and respirators.
Managers also can consult with other users who applied coatings that stood the test of time. A site visit to inspect their roofs and discussion with the manager responsible for a roof that has been in place for several years can reveal a successful installation. It also might reveal installation defects that have caused ongoing problems and unanticipated costs. This information, considered during the coating planning, can result in a more satisfactory outcome.
Continue Reading:

Roof Coatings

Roof Coatings: Top-Level Protection

Spotlight on Elastomeric Coatings: What You Need to Know

Roof Coatings: Inspection and Testing to Ensure Proper Installation

Understanding Maintenance Requirements for Roof Coatings Systems
---
---
---
Related Topics:
Comments