Specifying the Proper Roofing System
Comprehensive planning can help managers turn a big-ticket challenge into a long-term success
OTHER PARTS OF THIS ARTICLE
Pt. 1:
Making Roofing Projects Work
Pt. 2: This Page
Pt. 3:
Roofing: Fine Tuning the Specification Process
Pt. 4:
How To Select the Correct Roofing Consultant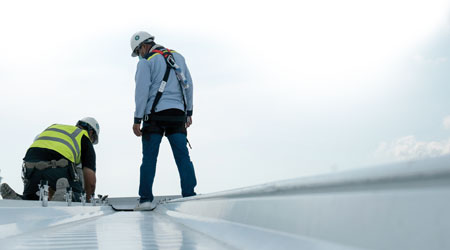 Managers who oversee roof replacement projects all too often take the easy road when facing difficult decisions: "It's time to replace the roof. Let's just use the same product, method of installation and contractor we used 15 years ago."
Unfortunately, the roofing system might not be available, or the formulation might have changed dramatically. Beyond that, the application method and criteria might not conform to current code requirements, or the contractor might no longer be approved by that manufacturer.
Building codes have been significantly revamped over the past 15 years, especially in storm-prone or tropical regions. Here are a few managers need to be aware of:
• Wind design criteria has increased substantially, especially at corner and perimeter roof areas. Some older methods of application might fall short of these values, especially in Florida's high-velocity hurricane zone exposures.
• Energy code requirements in states such as Texas, California and Arizona require minimum insulation values for new and existing construction.
• Drainage requirements have changed governing the minimum number and size of openings for discharge of water from roof surfaces.
Two other specification considerations also can save money and prevent serious stress:
Property insurance policy. Make sure that the products selected will not pose a problem in the event something goes awry during or after the project. Some roofing products require use of open flames or emit carcinogenic fumes that might cause damage or a health emergency for the property or its occupants. Managers need to ensure these products or methods of application are not prohibited in the contract of insurance.
Discounts. Certain products, accessories and upgrade methods by which these products are installed might make you eligible for a discounted rate on property insurance premiums. Premiums have skyrocketed over the years, and this might be the best weapon against this unidirectional change. Adding a high-density cover board under a roof membrane provides significant resistance to hailstone impact. Some manufacturers even provide hailstorm coverage, which reduces the insurance carrier's exposure.
Continue Reading:

Retrofit Specification

Making Roofing Projects Work

Specifying the Proper Roofing System

Roofing: Fine Tuning the Specification Process

How To Select the Correct Roofing Consultant
---
---
---
Related Topics:
Comments