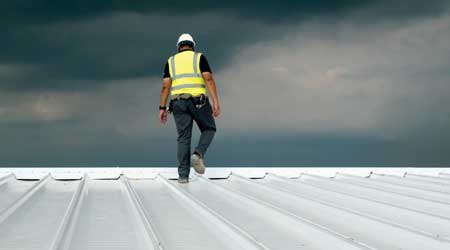 Roof Inspections and Streamlining Maintenance
Comprehensive inspection program can benefit departments, occupants and the bottom line
A manager's long-term experience with a roof system can be invaluable in developing and implementing comprehensive inspections plans in place, and it can be an immense benefit to the organization. General knowledge of roofing and the specific roof on a facility can ensure a working understanding of the steps it takes to maintain and repair the system.
One way to build general roofing knowledge is to attend training programs that specifically address roofing systems — generally referred to as Roofing 101 seminars. These seminars are designed to provide basic training for managers and other decision makers and educate them in roofing materials, roof repair work and typical costs associated with roofing. The National Roofing Contractors Association and the International Institute of Building Enclosure Consultants offer such training courses.
A manager's historical knowledge of a building's roof also provides essential system information when it comes to planning and scheduling repairs. A manager knowledgeable about a facility's roof can assist in effectively understanding and translating the scope of a needed repair to the building owner and emphasize the importance of roofing maintenance in developing the facility maintenance budget. If a manager oversees an effective inspection program and a well-thought-out budget, there should be no surprises or tough decisions when repairs do come.
Maintaining a roofing system comes with its own set of unique challenges, so a manager equipped with long-term knowledge and experience with a particular roof system, as well as a basis of general roofing knowledge, can develop a maintenance plan that is proactive rather than reactive when it comes to finding leaks, managing potential repairs, and ensuring occupant satisfaction.
Michael Spach, RRO, RRC, is a roofing and building enclosure specialist at Smith Seckman Reid — www.ssr-inc.com — in Nashville. He has been in the roofing industry for more than 30 years and has worked as a roofing contractor and a roof consultant. He is a certified level 1 infrared thermographer and serves as president of the Mid-South Chapter of the Roof Consultants Institute, www.rci-online.org.
Continue Reading:

Roofing

Roof Inspections and Extended Performance Life

Roof Inspections: Establishing a Plan

Roof Inspections and Streamlining Maintenance
---
---
---
Related Topics: