How Roofing Complements Whole-Building Sustainability
Roofing systems selected with the idea of integrating them with other building systems and strategies offer a big opportunity for improved whole-building sustainability.
OTHER PARTS OF THIS ARTICLE
Pt. 1:
How to Add Value on Your Next Roofing Project
Pt. 2:
Roofing That Enhances Employee Health and Wellness
Pt. 3: This Page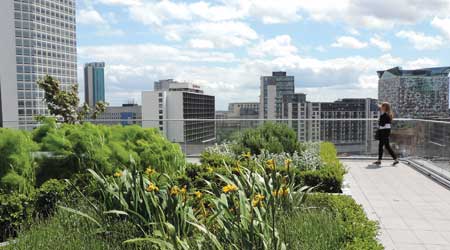 The installation of a living roof is another option. The application of living roofs has become more prominent in the last 20 years as technological advancements to living roof technology have provided many benefits which made these systems more economical. Installation of new living roof systems has a few benefits:
They are lightweight.

They are easier to apply.

They require minimal long-term maintenance.

They provide an instant green roof with full grown plants.

They have a proven performance track record.

One of the significant advancements that resulted from increased use of these systems is the development of the growing medium. Sedums are integrated into mats that make the systems both lightweight — no growing medium or soil is required — and immediately aesthetically pleasing — vegetation is already fully grown and developed. Another advantage is the vegetation requires little maintenance.
The living systems can be applied in mats or tray systems that are set over the roof membrane. The advantage of this method is that the medium is supplied as a full assembly which includes the vegetation, the required protection mats, and drainage layers. In most application methods, the contractor simply sets the living system assembly over the completed membrane in a similar fashion as applying pavers.
While the technological developments were primarily to the living surface, it has greatly benefited roof membrane design. Living roof applications have become roof surfacing — like pavers or ballast — that can be applied over virtually any type of roof membrane system. Most of the major low-slope membrane manufacturers on the U.S. market offer some type of living roof system as a surfacing option.
As with all conventional low-slope roof systems, proper slope and drainage is required. Because the living roof will hold water (continuous ponding), it is essential to meet the membrane manufacturer's requirements on this issue. It may be a best practice to apply membranes that are not averse to ponding water. The cost of adding artificial slope may prohibit the application of a living roof.
Living roofs are environmentally friendly and add to the sustainability of the building. Application of these systems qualifies for LEED points for the facility. Some of the primary benefits of installing living roofs are:
Reduction in energy costs.

Stormwater management, as they reduce water run-off from the roof system.

Increases in the longevity of the roof membrane, as they shield from UV exposure.

Improvement in surrounding air quality, as they absorb pollutants.

Additional aesthetic quality to the building.

Increases in green space available in urban environments.

These are a few of the ways you can add value to your next roof system. The value-added benefits could include energy-efficiency, long-lasting value, and improved employee productivity. These are much better prospects than simply a dirty, colorless, expansive expense.
John D'Annunzio (john_paragon@ameritech.net) is president of Paragon Consultants and Paragon Roofing Technology, Inc., with more than 20 years experience as a consultant on projects around the world.
Continue Reading:

Roofing

How to Add Value on Your Next Roofing Project

Roofing That Enhances Employee Health and Wellness

How Roofing Complements Whole-Building Sustainability
---
---
---
Related Topics:
Comments