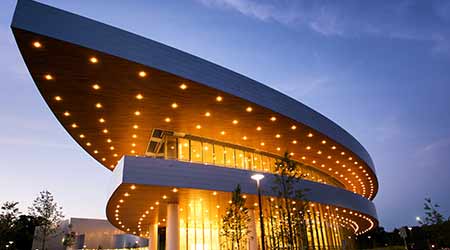 Case Study: Roof System Addresses Flood-Protection Issues
The University of Iowa is well-acquainted with weather threats. In June 2008, the nearby Iowa River crested 10 feet above flood levels and affected more than 20 buildings on campus. Proactive flood-protection planning is standard practice at this flagship public-research university. The campus is home to the Iowa Flood Center, which conducts research with NASA and others to improve precipitation forecasting.
The university's largest flood-recovery project, the newly opened Hancher Auditorium, is still in view of the river but perched on a site 7 feet above the 500-year flood level.
The $176 million project replaces the former auditorium with a new design featuring sweeping floor-to-ceiling windows and multiple roofs, including a dramatic 90 foot cantilever. Inside is an 1,800-seat, multi-purpose, proscenium theater with related support spaces, a rehearsal room and administrative offices. The design also creates new space for the School of Music, including scenery and costume shops, a recording studio, and performing arts production offices.
An outside engineering firm provided structural design, building enclosure consulting, and construction support services for the replacement facility, erected on a 40-inch thick hydrostatic slab designed to resist future floods. The lead building enclosure consultant for the project was architectural designer Barnaby Wauters, who assisted the architectural team in the design and specification of the façade and roofing systems and served as project manager during the construction phase.
The auditorium's roofing included 55,000 square feet of cold liquid-applied, reinforced waterproofing membrane from Kemper System America for the first floor waterproofing and glazing interface, as well as roofs on the second and third floors. The project also included 51,000 square feet of a PVC single-ply membrane, selected for the unoccupied top two levels, which were accessible but not visible from inside or the ground.
Wauters had first used the Kemperol 2K-PUR reinforced membrane system for a project at the Art Institute of Chicago in 2004 and was familiar with the system performance and the company. He credits Kemper System for strong technical support and help in securing university approvals for the system's multiple uses on the Hancher Auditorium project.
"There are a lot of benefits to using a cold liquid-applied membrane system, especially for a dynamically shaped building," he says. He summarized areas where the solvent- and odor-free, cold liquid-applied membrane system provided a valuable solution for the structure: First floor. The auditorium's ceiling-to-floor windows wrap around the ground floor like glass ribbons.
"Instead of using a bituminous waterproofing system at the window interface, we chose to use Kemper System so the windows could be sealed at the bottom directly to the liquid membrane waterproofing system without the need for additional materials and transitions," Wauters says. "This direct seal to the structurally glazed window system is also meant to provide some additional protection during a water event.
"The glazing systems are curved, so it would have been very difficult to tie in a regular bituminous waterproofing system additional components such as stainless steel flashing, additional sealant and termination bars. The Kemper System provided the perfect transition and reduced the complexity and labor required in typical transition details."
Upper floors. "Transitioning was another impetus for using the Kemper system on the upper floors," Wauters says. "The exterior roof slabs are only about 10 inches lower than the interior floor level, so we didn't have much room to make the transitions from the roofing to the glazing system. Again, a bituminous waterproofing system would have required counterflashing and termination bars. So we were able to take care of it with the cold liquid-applied system, and that really simplified the detailing. The system is also UV-resistant, so it won't degrade like a bitumen based waterproofing if exposed."
Parapet/Rainscreen. "The auditorium uses a modified-open rainscreen cladding system that allows weather in, so we needed a very good transition over the parapet cladding, which is not sealed," he says. "Because it was open, the parapet wall needed to be protected. We were able to use the liquid-applied Kemper System up and over the parapet and tie directly into the building air barrier. We didn't need any transition. We could just lap the air barrier onto it.
"The parapet is low, almost level with the roof pavers, so there is no perceivable wall. The clips for the parapet cladding were also embedded in the liquid-applied membrane. We could put the supports for the cladding right on the liquid-applied and then seal it all in with the liquid-applied membrane system."
Roof drainage. "We didn't have a lot of room for sloping roof deck on the second and third floors, so we needed a roof waterproofing system that could be warranted with no slope at all, which Kemper System was able to do," he says. "Normally, a roofing system relies on the slope to drain water, but in this case, we only had 10 inches from the interior slab to the roof slab. That was a challenge."
Limited access overhangs. "A lot of the roofs are protecting overhangs," Wauters says. "The longest cantilever on the building, on the third floor, is 90 feet long. The overhangs on the cantilever tilt up slightly, so when it snows, there is still either a minor slope to the drains, or it is flat. The roof areas, over both occupied spaces and the exterior, are full of very large beams that can't be accessed, so we wanted a bulletproof waterproofing system to protect against any leaks. In addition, the liquid-applied systems applied to the structural deck do not allow sideways migration of water under the system which is critical in locating leaks if they occur."
Wind uplift. "Iowa City is not immune to strong winds," he says. "Uplift was considered where the insulation goes over the membrane and needs to be held down. The engineering firm determined the uplift and specified either 3 inches of stone or 2-inch concrete pavers for those areas with overburden. There was no uplift requirement for the Kemper System, since it adheres directly to the slab."
Repairability. "Repair is relatively easy with a liquid-applied system," he says. "You can just go over it with another layer." This became important during the construction phase. Contractor considerations
Weather delays are to be expected on any major project but can be unexpectedly long. T&K Roofing, a prime contractor for the University of Iowa, first started scoping out ideas and different systems for the auditorium in 2012.
"We have a long relationship with OPN Architects and Mortenson Company, the construction manager, on several projects of this size and scope over the years, and we have worked with the university before," says Kurt Tjelmeland, CEO of T&K Roofing.
After T&K won the bid in 2013, weather delayed the overall construction, so what was to be a spring 2014 start for the roofing project was pushed to late fall and did not get fully underway until April 2015. In fall 2014, technical representatives from Kemper spent four days at T&K Roofing, training and certifying the application crew.
"The first sections of deck were available to us in October and November 2014, so we were limited in what we could accomplish before the winter shutdown," Tjelmeland says. "This was a high-profile project with a lot of eyes on quality, so we were pretty conservative on when we could install."
January weather in Iowa City average 23 degrees with 8 inches of snow. The Kemperol 2K-PUR system can generally be installed at temperatures of 40 degrees and above and on colder substrates, depending on the dew point and surface.
"We were installing this over a poured-in place concrete deck, so we also had curing considerations on the slab, which could range from 20 to 40 days depending on ambient conditions," he says. "We had to navigate our way through those restrictions as well before we could get going."
There were other trades working on the structure during the winter and throughout the project. For superior adhesion and cleanliness, the T&K team shot-blasted the slab in the spring before applying the Kemperol EP primer with a deep-nap roller or a brush for detailed areas. The Kemper system was then applied over the cured primer — first, the Kemperol 2K-PUR resin system, then the Kemperol 165 fleece reinforcement, and then the resin again to saturate the reinforcement and form a seamless monolithic membrane. The surface is rainproof after 15 minutes. Overburden can be applied after two days, and the system completely hardens after three days. The cured membrane system is impervious to standing water, snow and ice, and it resists UV light, biodegradation, and most chemicals.
On top of the membrane, the T&K crew installed 5-7 inches of EPS insulation and then a custom-white ballast from a quarry in Wisconsin was spread on about 44K square feet. For a plaza roof on level 2, the remaining 11K square feet of Kemper system was topped with custom-white concrete pavers. Details, details, details
First floor glass ribbons. The Kemper system needed to reliably seal the bottom channel of the entire curtain wall and window system. "That's a detail that no other type of roofing system would have been able to do," Tjelmeland says.
Compatibility and confidence. Kemper System is compatible with stainless steel and most other metals, sealants and construction materials. At the top of the parapets, the Kemper System terminated and the exterior air and moisture barrier came on top, with some redundant structural detailing to ensure waterproofing integrity.
"Obviously, when you transition over the top of a right angle or make a right-angle transition anywhere, that is typically going to be one of your weak points," he says. "But you walk away after finishing those details about as confident as you are going to be that you are not going to have to go back and fix something later."
Vertical surfaces and more. T&K was able to run the Kemper System up a vertical surface and then turn it back under a horizontal lip.
"There is actually about a two-inch strip on several different levels where the Kemper system membrane is actually facing upside down," he says.
Job safety. Level 4 is 80 feet in the air with a parapet and overhang just 10 inches wide. In anticipation of the project, construction management installed permanent fall-protection railings around all roof perimeters.
"That did help us," he says. "We didn't have to be harnessed off at all times or to be hauling a rope grab or retractable." Defending ground
One of the advantages of the Kemper System is that it is easy to repair if the membrane sustains damage. While the Kemperol 2K-PUR system is walkable after four hours, it is still more vulnerable before it is fully cured. In addition, for warranted protection, the primer and resin must be applied to surfaces free of moisture, dirt, solvents, oils and other debris. The reinforced membrane is, in fact, highly tear resistant — to 1,100 pounds — but can be punctured with sufficient force.
Kemper System was applied on levels 2, 3 and 4 that also were access points for the HVAC, mechanicals, and interior work, with boots-and-scissor jack-lifts feeding sheet rock, copper and other materials inside.
"It was functionally and practically impossible for all those contractors to bring their materials and equipment through the first level, so there was a tremendous amount of activity on the upper roofs," Tjelmeland says. "That was actually our biggest challenge. In addition to clearing the way to install roofing, once it was installed, we did our best to ensure that the other contractors protected the finished roofing."
Coordination was a shared responsibility, but made more difficult by the earlier delays. In the end, some roofing areas required reapplication.
"I'm not a big fan of doing work twice. It's unfortunate, but in construction these days, it happens," Tjelmeland says, adding that he credits the University of Iowa and MA Mortenson Construction for working with all parties to a solution.
Satisfaction
"The University expressed satisfaction with the quality of the installation, the product, the Kemper System field technical people, and T&K employees," Tjelmeland says. "The weather affects the roofing business no matter what. The Kemper system may require some finesse, but once it's installed it is essentially bulletproof. Getting to that point, sometimes you just have to get over some hurdles."
---
---
---
Related Topics: