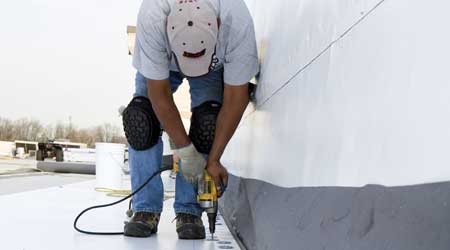 Roof Warranties Give Facilities an Added Layer of Protection
Managers who understand roof warranties can protect operations and occupants, and extend a roof's performance life.
Roof warranties can seem mysterious. They vary by manufacturer, they contain lots of legalese, and they can be long and tough to read. Even so, they are essential documents that maintenance and engineering managers need to understand to ensure a new roof's long-term performance.
Before having a new roof installed on an institutional or commercial facility, managers need to take some time to fully understand the contents of the roof's warranty.
Not every warranty offers the same coverage. By reading the fine print and asking the right questions, managers can better understand just what the warranty covers.
"Most of the time, the fine print excludes many, many things," says BJ Steele with Progressive Materials. "It is always good to know what the warranty is excluding and including."
Do the due (diligence)
Before managers sign a contract with a roofing manufacturer or contractor, it is imperative to perform due diligence in selecting the appropriate roofing system.
"If (selecting of the right manufacturer and contractor) is done properly, then managers can look at the warranty as more of a security blanket should an unexpected fault in the workmanship or material occur," says Anthony Vross with Simon Roofing.
To find out what items a roof warranty includes and excludes, managers need to know where to look and what questions to ask.
"Managers should always ask about exclusions, requirements on their part to maintain validity, and specific coverage for workmanship and materials," Vross says. "In some cases, managers get caught up in the warranty's duration when what they should really be focusing on is its coverage terms."
To sort through warranty options, managers need to decide whether coverage specifics or the warranty duration — warranty durations can range from five years to 30 years or longer — is fundamentally more important to them.
"Selecting a warranty with good coverage is always a better option than selecting one that is offering lesser coverage with a longer duration," Vross says. "It is far more important for managers to base a decision on the warranty's coverage terms rather than how long the terms are," Vross says.
A warranty's coverage also can vary by location.
"Make sure you know what you're getting for where you're located in the country," says Mitch Guettler with Duro-Last Roofing. "A lot of warranties have exclusions for ponding water, limitations on hail size and wind speed. Hail is a lot more important to somebody in Oklahoma than is it to somebody in Michigan.
"I think people should really do their homework before they sign a contract for a roof. They should be really clear on exactly what is covered under that warranty."
Continue Reading:

Roofing

Roof Warranties Give Facilities an Added Layer of Protection

Understanding What a Roof Warranty Covers

Keeping a Roof Warranty Intact by Avoiding Common Mistakes

Preventive Measures Can Keep Roof Warranties in Compilance
---
---
---
Related Topics: