Facility Manager Cost Saving/Best Practice Quick Reads RSS Feed
Capturing Solar Power Wherever the Sun Shines
December 11, 2018 - Contact FacilitiesNet Editorial Staff »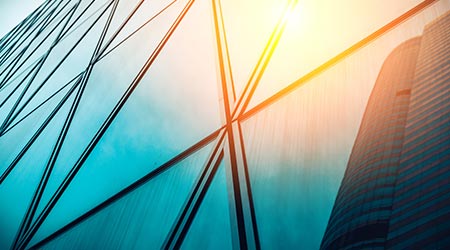 The most efficient orientation for solar panels is inclined, angled to most advantageously capture sunlight. This orientation makes it difficult for facilities without enormous roofs to benefit significantly from solar. But building integrated photovoltaics (BIPV) are making inroads in helping solar make sense for more buildings.

Managers can deploy BIPV in window applications where privacy or shading is desired, as well as sun shades, spandrel, transom, canopies, and facade panels. When arranged vertically, PVs are 25-30 percent less effective than when arranged vertically, says Udi Paret, general manager of architectural solar at Solaria Corp., but it's combined effect still makes it worthwhile. At Greenbuild, during a presentation called Achieving NZB with Solar Architecture and Innovative Financing, he also said BIPV is approaching rooftop solar in terms of first costs, while allowing innovative funding sources, such as PACE, to encompass more of the cost of new building construction.

The aggregate benefit of BIPV makes it attractive, since most buildings have much more collective surface area off the roof than on it. Last year, researchers at Michigan State University argued that the United States could produce 40 percent of its electricity from solar windows with at least 15 percent efficiency.

This year, the U.S. Department of Energy awarded the University of Michigan a $1.3 million grant to further develop its organic solar cell window technology from its current 8 percent efficiency to the goal of 15 percent efficiency, and into a quickly deployable commercial technology. Researchers say they have achieved the 15 percent efficiency by stacking two solar cells that absorb visible light and near-infrared light, which yields higher efficiencies than had been possible with organic solar cells.

Naomi Millán is senior editor, Building Operating Management.
---
Comments