Auditorium at University of Illinois Gets Power at Every Seat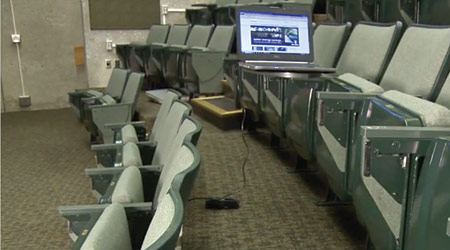 October 31, 2019 - Power & Communication
Many older facilities for education were designed before laptops were mandatory, and a streamlined power solution was often not an early consideration. This was the case for the 230-seat Large Animal Clinic auditorium, located at the University of Illinois' College of Veterinary Medicine. Initially, the school ran power in Legrand Wiremold 2400 Series raceway along the outer walls of the two-aisle auditorium when students first started bringing their laptops and tablets to classes. This worked in part: The left and right tiers of seats had power, but the center rows required extension cords. Using extension cords presented a serious trip hazard in the steeply banked lecture hall. This danger caused concern for the school, which looked for another solution for providing power.
Because there was no access under the floor, and vertical drops were not a possibility either, it made sense to run electrical wiring over the floor. Wiremold OFR Series overfloor raceway, which is designed to securely route electrical wires and cables across the floor, seemed like a good solution, except there was one problem. An outside corner was needed to allow the system to wrap over each tier. Legrand engineered and manufactured that component to fit the need.
OFR Series overfloor raceway provided a better alternative to old-style rubber wire guards, which aren't permanent and can't be easily secured to the floor. This ADA-compliant system attaches directly to the floor covering, even on carpet, tile, and wood. Additionally, the cover resists scuffing and scratches. It's also difficult to remove without the proper tools, which discourages unwanted access.
OFR was installed from the wall behind the lectern, across the floor and up the center riser in stair-step fashion up to the top tier. The OFR then feeds the 2400 raceway, which was installed laterally across the front of every other tier. Receptacles on the 2400 raceway were flipped over, pointing up. This installation gives students power at their feet and right behind them, depending on where they sit.
---
Comments