You Might Like
On FacilitiesNet
Lighting Controls Key to University of Texas Locker Room Renovation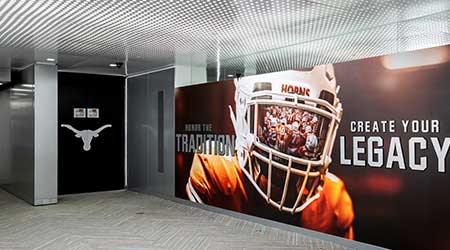 October 7, 2019 - Lighting
Every aspect of the 2017 renovation of the University of Texas locker rooms was designed to reflect the university's commitment to continued excellence in the program. Among other things, the existing lighting was uninspiring, and the existing sound system wasn't ready for Coach Tom Herman's variety of high-energy, pre-game hype. Lighting in the updated facility had to easily accommodate everything from players hanging out between practices, to academic study sessions, to team meetings, to the supercharged minutes right before players take the field. The lighting controls had to quickly and easily transform the environment, especially on game day.
A Lutron Quantum solution met requirements throughout the new facility. Under the guidance of Fernando Lovo, chief of staff for the team, every detail was meticulously planned and implemented, including the ideal sequence of operations for defined lighting scenes, each of which is accessed by the simple press of a button. Lighting plays a major role throughout the space. Each locker glows orange. Cove lighting throughout the space is fully adjustable, and a lighted corridor along the main entry way creates a must-stop photo op.
Lights can be adjusted in every area, including the showers, to ensure players can tune the lights to their preferences. Engraved keypads take the guesswork out of selecting the right scene: daily, recruiting, or game day. And, as Matt Smidebush, assistant director, football operations, explains, "When coach presses that game day button, he wants lights, music, and energy to reach epic levels immediately."
The facility includes study tables, comfortable couches, gaming systems to encourage socializing with peers, and a quiet place to meet, study film, or just relax. The integrated lighting control system ensures the atmosphere reflects the players' mood and meets their needs.
---