Power Players: Preventive Maintenance for UPS, ATS and Generators
First of a 4-part article on UPS, ATS and Generators
OTHER PARTS OF THIS ARTICLE
Pt. 1: This Page
Pt. 2:
Functional Load Testing Important Process for Testing UPS
Pt. 3:
Preventive Maintenance Characteristics for UPS Include 3 Groups
Pt. 4:
Products: UPS and Generators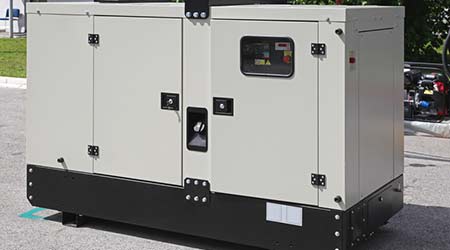 A rapidly growing number of institutional and commercial facilities rely on uninterruptible power supply (UPS) systems and backup power systems to protect data centers and more traditional facility operations and equipment. To ensure that UPS provide needed protection and operate energy efficiently while doing so, maintenance and engineering managers must have a comprehensive testing and maintenance program.
By incorporating key preventive maintenance (PM) activities for UPS, automatic transfer switches (ATS), and generator systems into department activities, managers can ensure data centers and related operations remain in operation.
UPS systems are designed to provide power to critical systems in a range of institutional and commercial facilities. Just because the UPS system appears to be online and operating during normal power situations does not mean it will function properly once needed, such as when the supplied power goes down. Departments need to follow standard factory-acceptance testing practices, which break down into three phases: physical PM testing, protection setting and calibration, and functional load testing.
Physical PM testing. Technicians need to check and tighten all connections to the UPS. A minor ground or loose wire can cause major issues, such as inducing transient voltages on the power logic supply that will affect control. They also need to check all components of the UPS, including diodes, capacitors, inverter gates, and drive boards, to look for swelling, pressure pop outs, and leaks. Technicians also should scan the UPS with an infrared camera or handheld device, which can be done before a shutdown to provide important feedback of UPS operation.
Protection settings and calibration. If the UPS metering is out of calibration, it will affect its operation. A meter that monitors DC bus voltage also controls DC overvoltage and undervoltage alarm and protection. If the load is switched to the UPS battery backup, the battery discharge might continue too long, causing the voltage to drop while increasing amperage draw. The rise in amperage causes excessive heating of internal components and could cause a catastrophic failure.
Continue Reading:

Product Focus: Power & Communication

Power Players: Preventive Maintenance for UPS, ATS and Generators

Functional Load Testing Important Process for Testing UPS

Preventive Maintenance Characteristics for UPS Include 3 Groups

Products: UPS and Generators
---
---
---
Related Topics:
Comments