Preventive Maintenance Characteristics for UPS Include 3 Groups
Part three of a 4-part article on UPS, ATS, and Generators
OTHER PARTS OF THIS ARTICLE
Pt. 1:
Power Players: Preventive Maintenance for UPS, ATS and Generators
Pt. 2:
Functional Load Testing Important Process for Testing UPS
Pt. 3: This Page
Pt. 4:
Products: UPS and Generators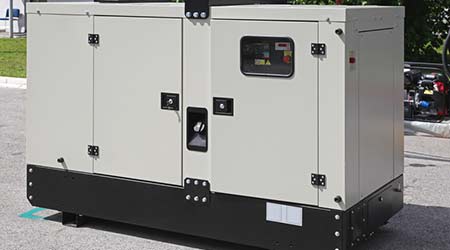 Preventive maintenance (PM) for specific performance characteristics of ATS, UPS, and generators breaks down into similar groups as testing for these systems.
Physical PM. This process should include checking all components to ensure no physical damage is visible. Digital ATS units have a user interface screen that indicates that the system is in standby when not activated.
Technicians also should look around the unit to ensure there are no burn marks and no smoke is coming from the unit. With the unit open, a technician can perform an infrared scan on the unit's wiring components to ensure the wiring is securely fastened to the buses.
Protection and calibration. A factory authorized professional can conduct this process on the ATS with the input of the end user or program settings based on local code requirements. In the case of life-safety components that receive power from the ATS, these systems usually have different transfer rate requirements than systems not related to life safety. Programming or setting can be done while the system is inactive.
Load testing. Technicians should regularly conduct tests on ATS systems — for example, on a certain day of every month. They should note switchover rates to ensure the switch is transferring the loads at the correct programmed rate.
They also can adjust settings at this time. They should test load transfers from main power to the ATS, along with load transfers from the backup power source to normal power. If timers for shutting down generators are part of the ATS function, they also should note these times.
Physical maintenance of generators should include the following procedures.
Technicians should investigate leaking fluids around the generator and repair the source of leaks. They should track run times and refer to the operation and maintenance manual recommendations for filter changes and fluid changes based on run times. During operation, they should note oil pressures, fluid temperatures and electrical readings and compare them to manual recommendations.
Technicians also should compare generator electrical readings to generator nameplate data. If the generator is equipped with a turbocharger, they should assess exhaust temperatures and pressures based on manual recommendations. A faulty turbocharger or a dirty turbocharger filter can cause excessive fuel use and poor performance.
Technicians should assess generator protection and calibration by ensuring the electrical control equipment operates properly. They can test the low-voltage controller during startup by simulating a low-voltage instance, activating the low-voltage controller, and starting the generator. They can assess voltage regulators during this process by transferring the load to the generator and watching outgoing voltage and amperage readings. If voltages fail to properly modulate during load variations, this could indicate that the voltage regulator requires calibration.
They also can assess phase adjustment. If the phase adjuster is out of calibration or not operating properly, the power supplied to phase critical systems could be causing damage. Pumps could reverse, fan motors could burn out, and life safety-equipment such as compressed-air systems could be damaged.
Technicians should assess the generator's load testing constantly to ensure the generator and prime mover can properly take over the power load of the facility. During this test, they should switch the load to the generator. The power load should remain on the generator until the generator's system pressures and temperatures stabilize, and they should allow the generator to supply the load and allow the generator to come up to operating temperatures and pressures.
Every UPS, ATS and generator system is different and requires different levels of assessment and maintenance. Coming up with a plan and using the proper professionals to assist in these processes is one of the most important job functions for managers. Technicians and managers do not need to know everything about every system in their facilities, but proper planning and execution, as well as tapping into professional resources, can ensure system performance and facility and operations protection.

Chris Duranceau is a project engineer with Horizon Engineering Associates. He has more than 15 years of experience designing, operating, maintaining and troubleshooting mechanical systems.
Continue Reading:

Product Focus: Power & Communication

Power Players: Preventive Maintenance for UPS, ATS and Generators

Functional Load Testing Important Process for Testing UPS

Preventive Maintenance Characteristics for UPS Include 3 Groups

Products: UPS and Generators
---
---
---
Related Topics:
Comments