You Might Like
On FacilitiesNet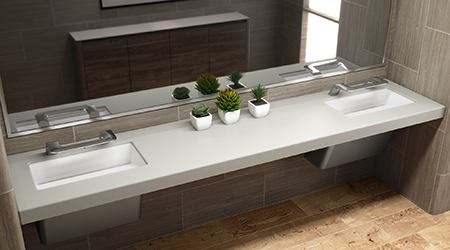 Workers Prefer Touchless Restroom Fixtures in COVID Era: Survey
The COVID-19 pandemic has changed the way we live and forced us to re-think the way we do some simple tasks, like washing our hands.
A recent survey by Bradley Corp. revealed that when using public restrooms, office workers far prefer using touchless fixtures since the pandemic started.
Bradley's Healthy Handwashing Survey revealed that nearly 80 percent of office workers view touchless fixtures as a necessity in their workplace environment. The general public's desire for touchless fixtures is just a touch higher at 84 percent.
The pandemic has also placed increased emphasis on handwashing for most office workers, who revealed that 70 percent are washing their hands more since the COVID outbreak, with half of those workers washing their hands more than six times a day.
One restroom practice that's grown increasingly popular shows an indication of an office worker's desire to avoid touching fixtures.
"Interestingly, two-thirds of office workers use a paper towel to avoid touching restroom door handles, flushers and faucet handles," says Jon Dommisse, vice president of marketing and corporate communications, Bradley Corp. "This evasive action further demonstrates why touch-free restroom fixtures resonate so much with restroom users."
The condition of restrooms also received high marks from office workers, as 75 percent believe the condition of their workplace restrooms show that a company values its workforce, and that 68 percent feel their restrooms are in excellent or very good condition.
Dave Lubach is managing editor, facility market.
---