Facility Manager Cost Saving/Best Practice Quick Reads RSS Feed
Water Woes: Challenges Loom for Western U.S.
March 7, 2018 - Contact FacilitiesNet Editorial Staff »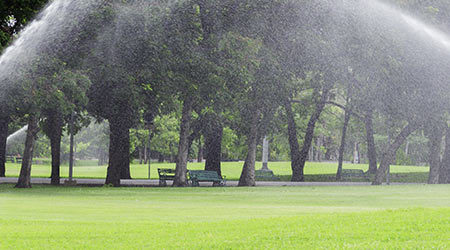 If there is one thing institutional and commercial facilities have made progress in over the last decade, it is water conservation. Water shortages, coupled with rising utility rates, have prompted maintenance and engineering managers in numerous parts of the country to take steps to cut facility water use.

Managers have more closely tracked water use related to HVAC, plumbing and irrigation systems in order to identify wasteful practices and malfunctioning equipment. They have specified a host of products — especially water-efficient restroom faucets, flush valves and toilets — that are designed to curtail water use. And they have tried to educate occupants and visitors about the need for water conservation.

California, always at the forefront of water conservation and other sustainable practices, has taken a hit several times over the last decade when it comes to water shortages and resulting conservation efforts. Now, it looks as though the state faces yet another challenge.

Read: Strategies and tactics to locate water waste

Record low snow and rainfall totals are threatening to push the state into yet another water crises, according to The Los Angeles Times. February is historically a wet month, but not this year. And the long-term forecast offers little hope for relief. Southern California is desperate for rain, but precipitation is expected to be so paltry experts are loathe to even call it an actual storm. Downtown L.A. has seen only 1.96 inches since July 1, less than one-quarter the historical average for this time of year, which is 8.54 inches. The last time Los Angeles broke the record for the driest year was when 3.21 inches of rain fell for the rain year that ended June 30, 2007.

Learn about plumbing system retrofits designed to save water

The odds are that California will have below-average precipitation through the rest of February, according to the National Weather Service's Climate Prediction Center. The main culprit, an intensely persistent mass of high pressure, refuses to budge in any significant way.

If February joins December and January into record-setting dryness, "then California is marching into unprecedented territory, which has never been seen before in the recorded climate history," says Steve Johnson, long-range forecaster with Atmospherics Group International. "Unless March and/or April bring abundant rains … this rainfall season could end up being one of, or possibly THE driest in our climate history."

This Quick Read was submitted by Dan Hounsell — dan.hounsell@tradepressmedia.com — editor-in-chief of Facility Maintenance Decisions.
---
Comments