You Might Like
On FacilitiesNet
Facility Manager Cost Saving/Best Practice Quick Reads RSS Feed
Lead Contamination Crisis Is Widespread and Little Spoken
July 25, 2019 - Contact FacilitiesNet Editorial Staff »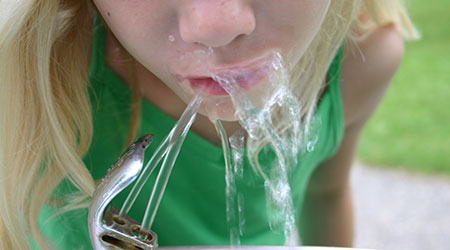 A school system in Brooklyn is struggling to rectify lead contamination in its water supply, even after funds were allocated to address the situation, according to Bushwick Daily.
Three Bushwick public schools underwent remediation work due to elevated lead levels detected in 2016, but retesting during the 2018-19 school year indicated lead levels still over the 15 ppb (parts per billion) levels that trigger action. One school found nine out of 99 samples with elevated lead in 2016. Two years later, 19 out of 122 samples at the school tested with elevated lead levels, and all of them at water fountains or classroom faucets. A different school also still had elevated lead levels in nine out 55 samples, one of them measuring 1,860 ppb, according to Bushwick Daily.
Separately, an investigation by WNYC and Gothamist found "substantial levels of lead contamination" in four public elementary schools from deteriorating paint. Dust samples in several classrooms showed lead levels at 100 times New York City's current safety standard, according to Gothamist. Schools which are not undergoing renovation are not required to test or remediate for lead.
The five-year anniversary of the Flint water crisis brought a lot of follow up coverage to the city, which now has its municipal water supply lead levels at 4 ppb, down from 27 ppb at the peak of the crisis. But it's not just Flint that has elevated lead levels in its water. Since 2017, 389 municipalities in the United States have reported lead levels above the 15-20 ppb mark, which triggers need for remediation. Of that number 153, had levels between 15-20, with the rest going as high as 140-145 ppb. Outliers to that data include one senior living facility in Stroudsburg, Pennsylvania which measured lead levels at 3,428 ppb, according to reporting in The Conversation.
The majority of high lead levels in municipal water can be traced to pipe corrosion in older residences, but the problem affects commercial and institutional facilities as well. In another example, an elementary school in Tulare County, California, reported lead levels at 4,600 ppb.
Most cities reporting elevated lead levels are found in New England and the Middle Atlantic States, in systems that serve fewer than 3,300 customers. However, among the larger urban systems, the largest lead levels were reported in Newark, New Jersey, with a level of 77 ppb, followed by Pittsburgh; then Trenton, New Jersey; Fort Wayne, Indiana; Suez Water, headquartered in Hackensack, New Jersey, serving multiple communities; Portland, Oregon; Providence, Rhode Island; and Green Bay, Wisconsin, according to EPA data cited by The Conversation.
Naomi Millán is senior editor of Building Operating Management.
---
Comments