You Might Like
On FacilitiesNet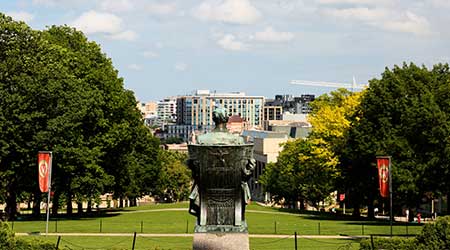 Explosions Rock Utility, Leave City Without Power
Murphy's Law — If anything can go wrong, it will — is unfortunately true for good reason. As maintenance and engineering managers know, problems seem destined to happen at the worst possible time. Managers in commercial and institutional facilities in Madison, Wis., know this all too well. Already battling the effects of a prolonged heatwave that had pushed temperatures to near 100 for several days, many managers recently had to deal with the effects of the heat on their buildings without power.
Two fires that sent large black clouds of smoke into the sky over downtown Madison recently caused thousands to lose power and led to major traffic delays, according to The Capitol Times. A fire broke out at the Madison Gas & Electric (MGE) main power center. Subsequently, a second fire broke out at an MGE substation near the University of Wisconsin-Madison. An evacuation order for Ogg Residence Hall was lifted after the fire was extinguished.
MGE spokeswoman, Kaya Freiman, says the cause of the explosion and fire was still unknown, according to The Wisconsin State Journal. Paul Roehr, a vice president with ATC Transmission Co., says the two substations were connected and that the fire at the campus substation likely was caused by the initial explosion and fire at the MGE substation.
Public Health Madison & Dane County shut down licensed establishments, including restaurants, swimming pools and retail food stores. Some restaurants and businesses had to throw away food if their refrigerators were without power long enough.
"Any of the hospitality businesses were affected if they didn't have generators," says Zach Brandon, president of the Greater Madison Chamber of Commerce. "Most of the large office buildings closed, so it wasn't just small offices, but landlords were closing entire buildings."
Dan Hounsell is editor-in-chief of Facility Maintenance Decisions.
---