Strategies to Maximize Water Savings Opportunities
Part 2 of a 3-part article on water conservation practices
OTHER PARTS OF THIS ARTICLE
Pt. 1:
Successful Water Conservation Involves Many Critical Factors
Pt. 2: This Page
Pt. 3:
Public Relations Plays Role in Water Conservation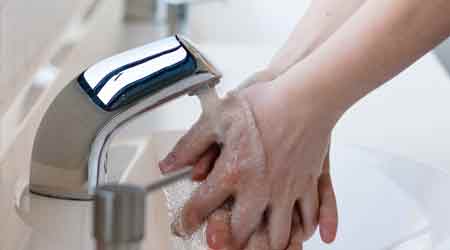 Managers seeking to curtail water use in restrooms can use a number of strategies to produce even greater water savings. Low-flow fixtures are available for faucets, but also for showers and toilets.
Any restroom fixtures manufactured before 1992 have flow rates that are at least double, and sometimes triple, the new fixtures. Installing these low-flow products can be as easy as unscrewing aerators on sink faucets and screwing on new low-flow —1 gpm — pressure-compensated aerators. Workers will need to replace showerheads and toilet valves with low-flow designs. A skilled technician with the right tools can complete the job in less than an hour.
All restroom users have let the water run while the sink faucet discharges cold water for a while, then gradually transitions to warm water until it gets warm enough to use.
Allowing running water to warm up every day for every faucet for a year results in thousands of gallons per fixture going directly into the sewer for no useful purpose. The solution is a point-of-use inline heater that heats water as soon as a user opens the tap, resulting in maximized water conservation and lower water and sewer bills.
Managers also can use submetering as a water-saving strategy. Submetering technology detects waste due to water running, small faucet drips, and faucet and toilet valve leaks that are almost unnoticeable but that add significantly to the water bill over time. By comparing one sub-metered area to another similar one, managers can determine the location and cause of the waste, as well as the location of good water-conservation practices.
Technicians can install digital in-line meters directly into the piping system for accurate, real-time flow readings. The meters require 2-3 inches on the pipeline, so technicians can install them anywhere, even to meter the flow of one fixture.
Another option is an indoor remote smart meter system that monitors dozens of points of usage and sends data to a single receiver. The transmitter attaches to a pulse output that transmits every hour. Each transmission includes a unique customer or location identification, metered gpm or cubic feet per minute flow count, tamper status, and battery state.
Continue Reading:

Plumbing & Restrooms

Successful Water Conservation Involves Many Critical Factors

Strategies to Maximize Water Savings Opportunities

Public Relations Plays Role in Water Conservation
---
---
---
Related Topics:
Comments