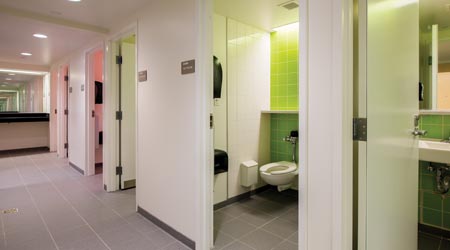 Aislinn Weidele for Mills + Schnoering Architects
Single-Occupancy, Gender-Neutral Restrooms Gaining Momentum
Especially at universities and in restaurants geared to younger patrons, gender-neutral bathrooms are becoming the norm.
The typical restroom model found in many commercial buildings in the United States — partitioned stalls, common sinks, perhaps a changing table affixed to one wall, and a sign outside indicating the gender of those inside — remains prevalent, but is being joined by a range of options. In particular, some observers say they're noticing greater interest in single-occupancy, and often gender-neutral, restrooms.
To be sure, the interest isn't universal, and accommodating requests for single-occupant restrooms poses challenges for building owners and facility managers. That approach is usually more expensive and requires more space to meet the need for restrooms with multiple single-occupant facilities, rather than with a multi-stall restroom.
However, the interest appears solid and likely to grow. "There's definitely greater interest," says Brian Koshley, global director, interior architecture, Carrier Johnson.
Some restaurants, and particularly those geared to younger patrons, are among those incorporating single-occupant, gender-neutral restrooms. And in higher education, interest has been growing for the past 15 years, says Ben Niebauer, architect and education market leader, DesignGroup. "We absolutely have been having more conversations with every client."
Driving forces
Growing advocacy by some transgender individuals for gender-neutral restrooms, while often the most discussed and controversial driver behind the interest in single occupancy restrooms, is not the only one. Another is a growing "global approach" to designing restrooms, says Paula Verboomen, design principal and architect with HGA Architects and Engineers. She notes that many European restrooms, for instance, incorporate partitions that extend to the floor, as well as thicker doors. Some don't designate a gender. The practical effect is to create something very close to single-occupant, gender-neutral restrooms. "It's a global way to design," she says.
Larger single-user, gender-neutral restrooms also can help to accommodate individuals with disabilities who require more room, perhaps to bring a caregiver with them into the space. In addition, individuals whose religious disciplines include foot washing may prefer to carry out this practice in a single-occupant restroom.
In a few buildings, a single-occupant, gender-neutral bathroom actually can be a practical option. Deniz Ferendeci, director of building services, Dyer Brown Architects, notes that when office buildings shift from a traditional floor plan with multiple offices to an open design, they typically increase the number of workers on the floor. To comply with code, they'll also need more restrooms. "If you add one or two bathrooms, you gain the ability to have a more dense population," he says.
When renovating the restrooms in some older buildings, it can become clear that they lack the space for multi-stall gender-specific restrooms. "You have an elevator shaft on one side, and an electrical closet on the other," Ferendeci says. Incorporating one or two single-occupant restrooms can ensure the renovation meets current code requirements.
Another reason for the interest in single-occupant restrooms: Many individuals simply prefer them. "Folks gravitate to single-stall restrooms for increased privacy," Ferendeci says.
Continue Reading:

Restrooms

Single-Occupancy, Gender-Neutral Restrooms Gaining Momentum

Universities Lead In Gender-Neutral Restroom Design

How To Overcome Obstacles, Resistance to Gender-Neutral Restrooms
---
---
---
Related Topics: