Restrooms Upgrades Must Consider Coronavirus, Hygiene Issues
Adapting to the reality of the coronavirus pandemic, while improving productivity of custodial staff and reducing costs, should be the goals for any restroom upgrade.
OTHER PARTS OF THIS ARTICLE
Pt. 1: This Page
Pt. 2:
Rethinking Restroom Sanitation Practices During the Pandemic
Pt. 3:
Go Beyond the Basics for Restrooms Products and Processes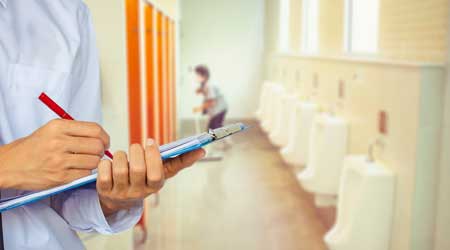 Maintenance and engineering managers planning upgrades to plumbing and restrooms traditionally have focused on such goals as water conservation, accessibility and user hygiene. While these considerations remain in place, the issue of hygiene has become a higher priority as institutional and commercial facilities seek to make their facilities safer in response to the COVID-19 pandemic.
In this new era, managers planning plumbing and restroom upgrades now have to factor in the coronavirus when it comes to such considerations as specifying products – including faucets, dispensers, hand dryers, toilets and other potential touchpoints – setting project goals and planning for post-installation housekeeping and sanitizing.
Specification strategies
Managers should keep in mind three goals in planning upgrades: adapting to the reality of COVID-19, raising the productivity of custodial and maintenance workers, and reducing costs. By taking this approach, managers are more likely to partially or completely offset upgrade costs, improve hygiene, and select more effective products. Consider these examples of products that can minimize the spread of disease by reducing touchpoints in restrooms:
Faucets. Touchless, sensor-operated faucets are a good investment since they eliminate transferring bacteria among users who touch a handle. They also conserve hot water by stopping the water flow as soon as the user removes hands from the path of the sensor.
Paper towels. Single-use, throw-away paper towels offer improved hygiene. If the user pulls the paper towel or if the dispenser is sensor-operated – rather than accessing towels by pressing a lever – there is no cross-contamination.
Toilet stalls. New technology eliminates the need to touch restroom stall doors, and foot-operators open the door. Lights on the doors glow green when the stall is vacant and red when it is occupied. This same technology tracks user count. When the number of users reaches the point established for cleaning, an indicator notifies housekeeping staff that cleaning is required..
Fixtures. Touch-free, sensor-operated toilets and waterless, touch-free urinals are becoming more the standard for coronavirus control. Selecting low-flow or waterless products also can be major cost- and water-savers. Also, area inline flow meters that show major points of water consumption can produce a roadmap for managers and technicians to identify waste. They can find the biggest savings in the most frequently traveled water lines.
If managers cannot upgrade other touchpoints in restrooms, such as doors and dispensers, they need to ensure such surfaces are cleaned and disinfected using proper protocols several times a day, depending on usage.
Continue Reading:

Plumbing and Restrooms

Restrooms Upgrades Must Consider Coronavirus, Hygiene Issues

Rethinking Restroom Sanitation Practices During the Pandemic

Go Beyond the Basics for Restrooms Products and Processes
---
---
---
Related Topics:
Comments