Tactics for Successful Surface Prep and Paint Applications
Manufacturers offer insights on effective surface preparation and selecting paints to meet surface needs
OTHER PARTS OF THIS ARTICLE
Pt. 1:
Paints: The Bottom Line on Surface Preparation
Pt. 2: This Page
Pt. 3:
Paints and Coatings Applications for Long-Term Performance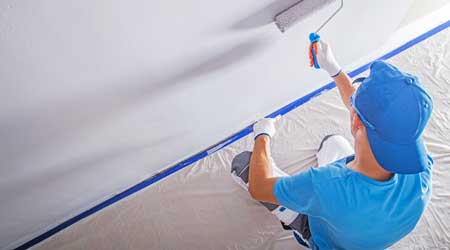 Workers preparing surfaces prior to applying paints or coatings first need to understand the conditions of the work area.
"The temperature and humidity must be appropriate to the project," Watson says. "It's important to never paint immediately after rain, when rain is predicted or during foggy weather. As a general rule, avoid painting if humidity will be more than 85 percent and when temperatures rise above 90 degrees or fall below 50 degrees unless the products are designed to be used under those circumstances."
If conditions are appropriate, surface preparation can begin.
"First, thoroughly wash the area with a good cleaner, degreaser or emulsifying agent, then rinse with clean water and let dry completely," Watson says. "Next, sand any scuffs and other irregularities, and then remove all dust with a clean, damp rag to create a surface that is truly ready for primer and paint."
The process also needs to include a close inspection of the prepared surface prior to application.
"If there is the appearance of dirt even after washing, chances are there may be mildew on the surface," he says. "Prior to attempting to remove mildew, it is always recommended to test any cleaner on a small, inconspicuous area prior to use. Bleach and bleaching-type cleaners may damage or discolor existing paint films, so bleach-alternative cleaning solutions may be advised."
Workers can remove mildew by washing with a solution of one part liquid bleach to three parts water, Watson says. They can apply the solution and scrub the area, allowing the solution to remain on the surface for 10 minutes before rinsing thoroughly with water and allowing the surface to dry before painting.
Surface preparation does come with some potential hazards to workers.
"Remember to wear protective eyewear, waterproof gloves, and protective clothing and quickly wash off any of the mixture that comes in contact with the skin," Watson says. "It's also important to not add detergents or ammonia to the bleach/water solution."
Watson also offers this warning: "Removal of old paint by sanding, scraping or other means may generate dust or fumes that contain lead. Exposure to lead dust or fumes may cause brain damage or other adverse health effects, especially in children or pregnant women. Controlling exposure to lead or other hazardous substances requires the use of proper protective equipment, such as a properly fitted respirator NIOSH approved and proper containment and cleanup."
For more information on the hazards of lead, managers can call the National Lead Information Center at (800) 424-LEAD or contact the local health authority.
Morris advises managers to consult industry standards from the Society of Protective Coatings for preparation of the most common substrates for additional guidance on surface preparation in general.
Continue Reading:

Paints: The Bottom Line on Surface Preparation

Tactics for Successful Surface Prep and Paint Applications

Paints and Coatings Applications for Long-Term Performance
---
---
---
Related Topics:
Comments