You Might Like
On FacilitiesNet
Dave Lubach: FMDAA Recipients Stand Out in a Crowd
OTHER PARTS OF THIS ARTICLE
Pt. 1: This Page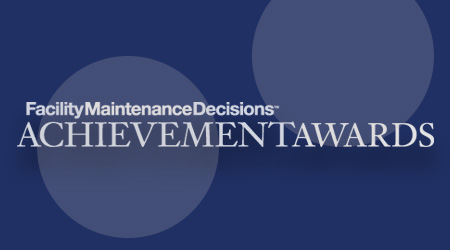 The Facility Maintenance Decisions Achievement Awards honor the nation's best maintenance and engineering departments in institutional and commercial facilities. Here are the 2015 recipients:
Medical University of South Carolina, Charleston. An HVAC retrofit reduced maintenance costs by $75,000 annually and lowered fuel use by 10 percent.
Oral Roberts University, Tulsa, Okla. HVAC upgrades helped lower electricity use by 32 million kilowatts (kWh), despite the addition of a 31,000-square-foot student center on campus.
Arlington (Texas) Independent School District. Lighting upgrades and HVAC system commissioning helped the district avoid $6.6 million in utility costs over five years.
Texas Children's Hospital, Houston. The hospital lowered its utility cost per square foot from $7.04 to $5.20 by maximizing its building automation system.
Broward College, Davie, Fla. The college centralized more than 100 full-time employees from different departments into a new maintenance team.
Frederick County (Md.) Public Schools. More than 170 maintenance workers participated in the school district's professional development program to help improve their skill sets.
Frito-Lay Facilities, Plano, Texas. Investments in HVAC and lighting systems helped reduce energy use by 2 million kWh annually, saving $1.5 million per year.
Winston-Salem/Forsyth (N.C.) County Schools. The school district used more than $300,000 in incentive dollars to upgrade lighting systems and HVAC equipment and install low-flow plumbing fixtures.
Texas Children's Hospital earns special recognition for its third honor in the program's six-year history. Broward College received its second award. To view all 2015 entries, visit www.facilitiesnet.com/fmd/fmdaa.
Dave Lubach offers insights gleaned from conversations with managers who make key maintenance and engineering decisions in commercial and institutional facilities. Agree? Disagree? Have something to say? We want to hear from you. Visit myfacilitiesnet.com/davelubach, and start a conversation.
---
---
---
Related Topics:
Comments