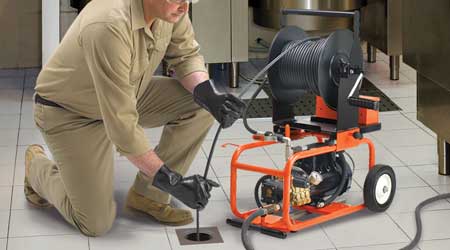 Chemical Considerations for Successful Drain Cleaning
It's crucial to understand the four basic types of drain cleaners and how they should be used to ensure success.
There are four basic types of chemical drain cleaners: acid, caustic, oxidizing and enzymatic. Each type reacts with the material of the clog, breaking it down chemically and dislodging it. To be effective, technicians must introduce the cleaner into the drain as close as possible to the blockage.
Acidic cleaners typically contain sulfuric or hydrochloric acid that reacts with the material in the blockage. The reaction produces heat that helps chemically break down the blockage. They work well on hair and grease, and they can dissolve small pieces of paper and other solids in the drain.
Caustic cleaners typically contain caustic soda, sodium hydroxide or lye. As with acidic cleaners, they break down the blockage through heat and chemical reaction and work well on hair and grease.
Oxidizing cleaners contain bleach, peroxides or nitrates. These chemicals work by releasing heat and oxidizing the organic material of the clog. As with other chemical drain cleaners, they work well on organic materials.
Enzymatic cleaners work differently than other chemical cleaners. Instead of breaking down the blockage through heat and chemical reaction, they use bacteria and enzymes that feed on the organic material of the blockage, breaking it down. They offer a more sustainable approach to drain cleaning in that they do not introduce toxic chemicals into the water. Their biggest drawback is that they work much more slowly than other chemical drain cleaners and can take several hours to clear a blockage.
Technicians must use chemical drain cleaners with care, avoiding physical contact with the chemicals because they can cause serious burns or blindness, and should never mix different types of cleaners. If overused, chemical drain cleaners also can damage the piping.
James Piper, P.E., is a national consultant based in Bowie, Md. He has more than 35 years of experience with facilities maintenance, engineering and management issues.
Continue Reading:

Drain Cleaners

How to Keep Drains Clean and Facilities Flowing

Understanding Types of Drain Cleaning Equipment

Chemical Considerations for Successful Drain Cleaning
---
---
---
Related Topics: