You Might Like
On FacilitiesNet
Facility Manager Cost Saving/Best Practice Quick Reads RSS Feed
Taking Workplace Lighting and Control to the Next Level
August 29, 2017 - Contact FacilitiesNet Editorial Staff »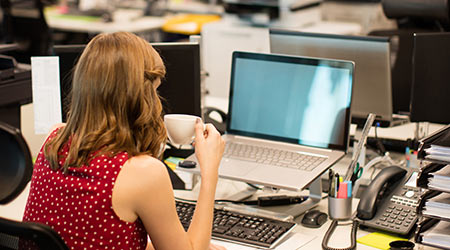 As facility managers and directors are aware, advances in lighting and controls over the past several years have unlocked greater energy efficiency and new capabilities in workplace lighting. Because of these changes, facility managers now have the opportunity to take advantage of lighting control system's functionalities to deliver superior indoor environmental quality, save on energy cost, and confidently meet stringent energy codes through optimized building performance.

The major trends affecting facility managers are in the areas of advanced energy monitoring, remote services, and human-centric lighting (HCL).

Advanced Energy Monitoring
A growing number of cities and states are considering or have already incorporated building energy benchmarking and disclosure policies into their energy management programs. Many of these policies include disclosure of power consumption via utility bills generated from a building's utility meter. This disclosure is not separated by load type but reports electrical power consumption, gas, and other energy used by the building.

In addition, electrical system metering and data collection requirements have found their way into the latest energy codes. For example, ASHRAE 90.1, Section 8 requires new buildings above a certain square footage to install metering and submetering and be able to report on different categories of loads including lighting, plug loads, and HVAC systems installed in the building.

These policies help to improve energy efficiency scores, and reduce utility costs while also providing valuable data to facility managers. Collecting data and seeing the information on when and where energy is consumed in a building leads to many opportunities for building performance optimization and efficiency.

Lighting makes up approximately 11 percent of total electricity consumption in the commercial sector, according to the U.S. Energy Information Administration (EIA). Many of today's lighting systems offer some level of metering capability, but they aren't all created equal. This is why it's important to choose a system that provides more accurate energy monitoring and data. California Lighting Technology Center (CLTC) published a study in 2015 that showed that the three systems they tested measured and reported energy differently and with varying degrees of accuracy.

Some models use "calculated" metering, which measures current but requires the facility manager to input voltage information and then assume that this value stays constant throughout the life of the system. A more advanced approach is where both voltage and current are measured automatically to calculate power consumption in real time. While calculated metering will be directionally correct (+/- 10 percent), real time metering has a much higher degree of accuracy (+/- 2 percent).

Remote Services
The Internet of Things (IoT) isn't a new concept in the lighting space, but still in its nascent stages. Smart or connected lighting has an important role in helping improve energy efficiency, building performance, and the occupant experience. Capabilities like remote connectivity and data analytics support for lighting control platforms are emerging and creating real value for building managers and owners.

Services like remote diagnostics and instant technical support are streamlining installation, start-up, and maintenance of lighting controls. This not only benefits the building owner and installer with time and cost savings during project installation, but later on, facility mangers will be able to get support remotely to address most sequence of operations changes and troubleshooting which previously required an on-site visit for resolution.

In the area of data analytics, solutions and services can remotely monitor power consumption patterns by analyzing the metering data mentioned above in various rooms or lighting zones, looking for trends over time, by floor, room, or even at the individual device level. This information can reveal patterns and insights, which can then trigger notifications and recommendations for the facility manager so that they can further optimize the performance and efficiency of their building.

Human-centric Lighting
HCL capabilities offer the ability to improve the quality of light within a building, which goes far beyond simple task-based or ambient lighting. HCL means visual comfort benefits that add real, noticeable value to the built environment. This can take the shape of advanced architectural dimming capabilities or the ability to adjust the correlated color temperature (CCT) of the light to replicate natural daylight cycles. There are multiple benefits to this capability including enhancing the overall space design, improving the perception of the architecture, and creating a more comfortable, customizable atmosphere for occupants.

In addition to these observable benefits, a great deal of research is being done about the potential emotional and biological benefits of HCL that mimics the range, color quality, and consistency of natural daylight. Studies are ongoing about the effect of light on people's health, circadian rhythm, alertness levels, and more. Initial results of this research have been promising, and facility managers should keep an eye on this space as the health and productivity benefits are proven out. HCL can potentially make the office environment feel more natural and comfortable, and even improve employee productivity and retention.

There are several HCL offerings in the marketplace, and these systems may seem similar on the surface. However, often times the differences are in how these systems are controlled. For facility managers and end-users, tunable light systems must be easy to control and customize. It's even possible to automate controls to incorporate an astronomical time clock to adjust the corrected color temperature (CCT) to match the daylight cycle at the building's precise latitude and longitude. This schedule can be overridden or customized, but the important thing is that the HCL control system is managing it in the background so the facility manger does not need to make daily adjustments in order to offer his or her building's occupants the full benefits of HCL. Simply have it installed and let it run.

Controls play a pivotal role in HCL and define the lighting experience. The current ecosystem of end-user controls can be complicated and confusing. This can result in facility managers or users sometimes avoiding the controls all together and negating the additional features that are possible with HCL systems. Whenever possible, look for a control system designed to work with specific tunable fixtures, which can reduce complexity in the design, install, and use of HCL systems. The costs involved with cobbling together and maintaining disparate solutions can add up for custom programming (commissioning) and troubleshooting to resolve issues that stem from controls and fixtures not being co-developed.

There will be more fixture choices available with HCL as more lighting fixture manufacturers incorporate LED light engines into their products. This is good news. However, make sure any tunable fixtures you select have natively compatible controls. Not all manufacturers have figured this piece out yet, and you do not want to be stuck with an advanced fixture that you are unable to easily control.

On the Horizon
Advancements in technology are enabling extremely efficient, high-performing buildings, more comfortable occupants, and facility managers who are equipped with actionable real time data that can help them make decisions that further optimize the performance of their buildings. Ultimately, a facility's lighting should fade into the background so that the built environment feels just as visually comfortable as the lighting in the natural environment, but can also be monitored in real time and adjusted on demand to suit specific tasks or optimize performance.

The best way to elevate your lighting system is to seek out a qualified lighting designer or electrical engineer. These professionals should be able to design a system tailor made to suit your building requirements leveraging all the latest technology.

Your building's occupants will notice the differences resulting from developments like advanced power monitoring, connected services for lighting systems, and human-centric lighting, and these lighting technologies will put your facility on the cutting edge of efficiency and performance.

David Dilitkanich is director of business development for Legrand's Building Control Systems division, which includes the Wattstopper, Vantage, Solarfective, and QMotion product lines. David has more than 15 years of experience in marketing and strategy for leading B2B and consumer brands including Nortek, YUM Brands, and The Walt Disney Company. He holds a B.S. in Business Administration from Sonoma State University and an MBA from the UCLA Anderson School of Management.

This Quick Read was submitted by Naomi Millán, senior editor, Building Operating Management, naomi.millan@tradepress.com. For more on next-generation lighting control technologies, go to www.facilitiesnet.com/17167bom.
---
Comments