Facility Manager Cost Saving/Best Practice Quick Reads RSS Feed
Evaluating Three Common TLED Retrofit Strategies
May 10, 2017 - Contact FacilitiesNet Editorial Staff »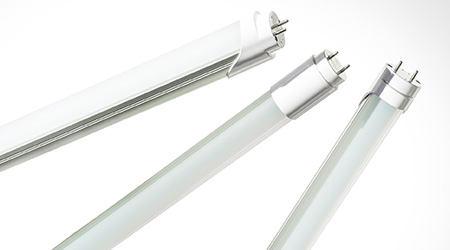 In existing buildings with older fluorescent lamps and fixtures, lighting retrofits can deliver significant energy savings, improve light quality, and reduce maintenance costs. An increasingly popular solution is to retrofit fluorescent fixtures with Tubular Light-Emitting Diode (TLED) retrofit options.

TLEDs can be easy to install, offer longer life, and reduce energy usage compared to fluorescent lighting. But there are tradeoffs, especially when a dimming control system is already in place, and high-performance dimming functionality is desired.

Before deciding on a TLED retrofit, consider the type of lighting performance necessary in the space. If the lighting needs to be fine-tuned and/or dimmed to low levels, TLEDs may not be able to deliver these benefits. Here are three commonly used TLED retrofit scenarios:

Scenario 1: TLEDs retrofitted with existing fluorescent ballasts (UL Type A)





In this scenario, the fluorescent lamps are replaced with specialized LED lamps that work with the existing ballasts. This type of TLED lamp has sophisticated internal electronics that simulate the electrical characteristics of a fluorescent lamp, essentially tricking the ballast into thinking a fluorescent lamp is still connected.

The benefit of this strategy is that installing TLEDs with existing fluorescent fixtures requires minimum labor and no modification to existing wiring or sockets. However, the additional circuitry typically adds cost to the LED lamp and decreases its efficiency compared to an LED lamp/driver combination. Compatibility issues can also make this seemingly simple solution complicated, and may result in poor dimming performance.

Scenario 2: TLEDs wired directly to line voltage (UL Type B)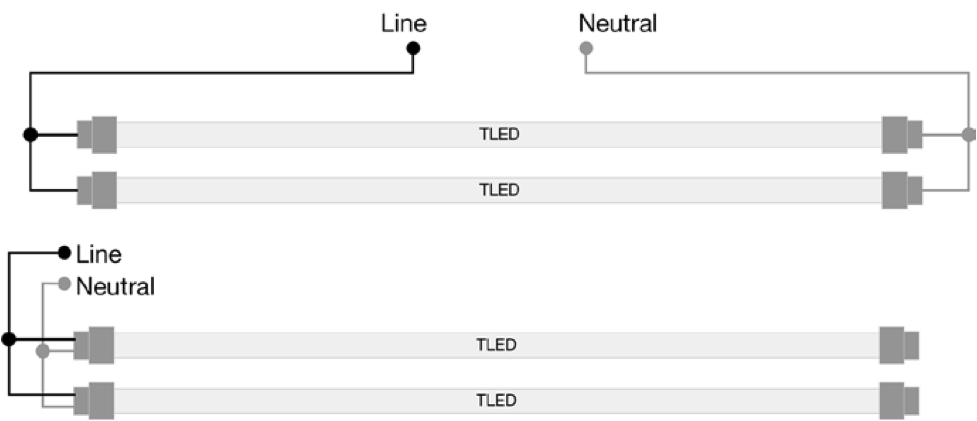 A second common scenario has only one component — a lamp with an integral line voltage driver — and requires very little rewiring. The installer just needs to remove the ballast and directly connect line voltage to the existing sockets, then plug the TLED lamp into the sockets.

The challenge of this strategy is that in the future, an installer may be unaware that the wiring was changed and may plug a fluorescent bulb into the socket. The line voltage will overload the lamp and may pose a safety issue. This scenario also increases labor costs, as changes must be made to the line voltage wiring, and existing sockets may need to be replaced.

Scenario 3: TLEDs supplied with dedicated LED Drivers (UL Type C)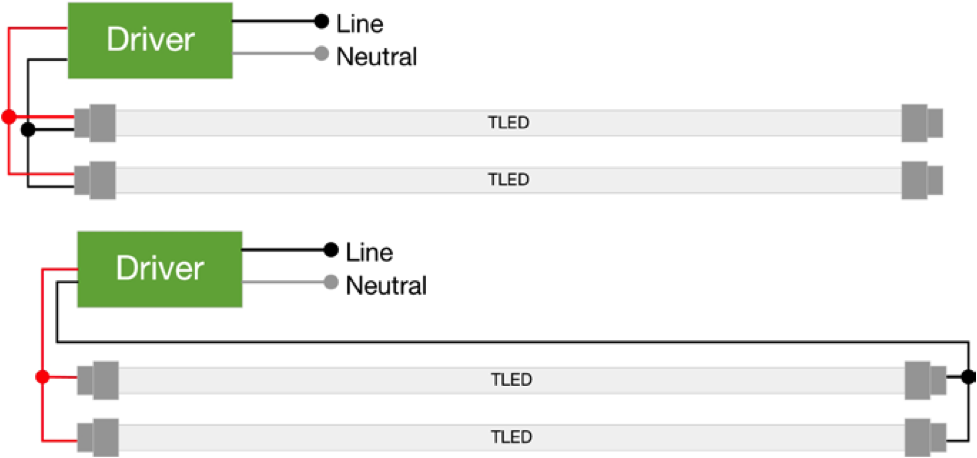 This option involves a kit consisting of LED drivers and lamps that have been tested to meet the requirements of UL 1598C. The installer removes the existing fluorescent lamps and ballast, then wires in the new LED driver.

The primary benefit of this strategy is that all the supplied components have already been tested together as a system. The lamp remains low-voltage, eliminating the risks associated with line-voltage sockets, and can also be dimmed using a dimmable LED driver and a compatible control system.

Keep in mind that upgrading from switched control to dimming may be more complicated if existing control wires are not already run to the fixture. This third scenario is also intensive, but offers predictable, warrantied performance, and the driver/control compatibility can be confirmed in advance.

The choice of a TLED retrofit solution is a balance between ease of installation, cost, performance, and safety.

This Quick Read was contributed by Ethan Biery, LED engineering leader with Lutron Electronics. He can be reached at ebiery@lutron.com.

For other ways facility managers can maximize LED retrofit benefits, Naomi Millán, Building Operating Management senior editor, suggests this recent article.
---
Comments