Knocking Down Traditional Barriers to Lighting Controls
Technology is making it easier for managers to knock down the traditional barriers when it comes to lighting controls.
OTHER PARTS OF THIS ARTICLE
Pt. 1:
How Lighting Controls Reduce Energy Use
Pt. 2: This Page
Pt. 3:
Wireless Lighting Controls Have Changed The Game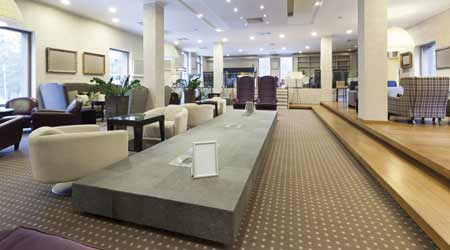 The decisions get trickier when it comes to controls because managers must contend with significant barriers, including initial cost, varying energy savings, lack of education, and physical constraints on installing dedicated control wiring. Fortunately, technology is knocking down traditional barriers.
Initial cost. A standalone controls upgrade might be difficult to justify in terms of energy savings, so managers should undertake controls upgrades during an LED upgrade. This is why it is important to consider controls during the LED upgrade planning. Managers also can reduce initial cost significantly through rebates from the local utility or energy efficiency organization.
Lighting rebates can absorb up to 70 percent of the product cost while improving average project payback by 20-25 percent, according to BriteSwitch. Most incentive programs recognize control rebates, which have shown remarkable stability compared to other technologies. The most popular control rebates cover occupancy sensors, light sensors, and daylight dimming systems, though rebate programs are beginning to include networked lighting controls.
Managers pursuing a rebate for lighting and controls should get to know the program — available incentives, qualified products, approval deadlines, rebate requirements, and time required to complete each step.
Estimating energy savings. This step can be problematic with controls because energy use is related to changing application characteristics. A manager can estimate energy savings through vendor experience, by conducting a trial installation, or by relying on third-party research.
Based on research from the Lawrence Berkeley National Laboratory and the DesignLights Consortium (DLC), popular lighting control strategies can deliver the following average lighting energy savings: occupancy response, 24 percent; daylight response, 28 percent; personal tuning, 31 percent; and institutional tuning, 36 percent. Combining strategies can lead to even greater savings.
Lack of education. Managers should educate themselves on advances in lighting and control technology. They should look for opportunities for control-based application characteristics, be aware of energy code requirements and available resources such as utility rebates, and be able to express their goals for the project from the outset.
Electrical contractors are transitioning from configuring controls by the way they are wired to pairing devices and configuring via apps, and some are further along than others. Managers should look for vendors that can provide the necessary labor and support based on the types of controls to be installed.
Wiring constraints. Traditionally, the major obstacle to installing lighting control in existing buildings has been physical constraints on new, dedicated control wiring, which provides a pathway for control signals between control devices — a necessity for advanced control options. Fortunately, managers have two options that handily address this constraint.
The first option involves standalone controls that do not require control wiring. Taking this approach would be considered doing "something." It includes: replacing wall switches with occupancy or vacancy sensors and dimmer-switches for line-voltage dimming; upgrading the electrical panel with remote-controllable circuit breakers for scheduling; installing a lighting control panel for scheduling; replacing some or all luminaires with luminaires with onboard standalone controls; installing light sensors in daylight zones for daylight harvesting; and installing plug-load controls.
Continue Reading:

Lighting

How Lighting Controls Reduce Energy Use

Knocking Down Traditional Barriers to Lighting Controls

Wireless Lighting Controls Have Changed The Game
---
---
---
Related Topics:
Comments