CASE STUDY: Smart Choice: LEDs Deliver Savings, Lighting Quality
OTHER PARTS OF THIS ARTICLE
Pt. 1:
LED Lighting Upgrades Deliver Savings
Pt. 2:
LED Upgrade Benefits School's Pool
Pt. 3:
Planning for an LED Upgrade
Pt. 4:
CASE STUDY: Illuminating History: Center Shines after LED Upgrade
Pt. 5: This Page
Pt. 6:
CASE STUDY: LED Lessons: School District Taps into Benefits of Upgraded Lighting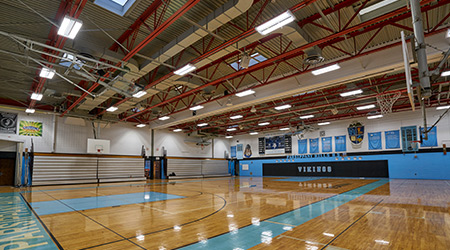 The education sector provides numerous opportunities for cost savings, most prominently with smart and strategic planning surrounding energy efficiency. The sheer size and amount of energy usage throughout these facilities to accommodate public spaces — including cafeterias, gyms, hallways, and parking lots, as well as within the classrooms and administrative areas — offers significant potential for schools to minimize energy usage and cut costs without ever having to disrupt the workflow of students. One of the most compelling opportunities for energy savings is the elimination of outdated fluorescent lighting and the introduction of new, advanced LED technologies.
Making the move
With significant budget cuts across the nation forcing educational establishments to reallocate funds to necessary classroom materials such as books, other areas of the facilities have suffered. As a result, prioritization of the replacement or advancement of existing lighting technologies is causing many facilities to overlook a valuable opportunity to invest in projects that can potentially be cash-flow positive. Recent advancements in lighting technologies are driving schools across the nation to explore and incorporate LED lighting technology within their facilities to reduce energy use costs.
This push for more energy efficient technologies was recently seen within the Parsippany-Troy Hills School District in Morris County, N.J.. The district demonstrated the lighting leadership that many other schools in the nation should emulate. The facility's classrooms, administrative, service and support areas all consisted of antiquated lighting technologies, which used an excessive amount of energy. The school, which provides public education for grades K-12, recognized that it needed to remove the fluorescent T8 and T12 lamps currently in use and update its lighting systems to incorporate LEDs.
The facility management team looked to Tri-State LED, a division of Revolution Lighting Technologies, for aid in developing and designing a retrofit project to benefit the district. To update the facility for maximum energy impact with minimal distraction from new lighting, the team selected a retrofit project to replace antiquated fluorescents with LEDs.
LEDs: Double the benefits
To meet its goals for greater efficiency and enhanced light quality to create a more productive learning environment for its students and faculty, Parsippany-Troy Hills selected T8 single-end-power LED tubes from Revolution Lighting Technologies to replace the existing T8 fluorescent lamps.
The replacement of antiquated fluorescents allowed the school to recognize short- and long-term energy savings. Immediately, they were able to offer superior light quality and output, as well as reduce energy use by 60 percent due to the energy efficiency of the LEDs. The savings also accumulates over time, providing continual benefits for the facility, saving $400,000 annually.
The durable construction of LED technologies simultaneously provides educational facilities like Parsippany-Troy Hills with a guaranteed quality of lighting and energy savings over the product's 10-year warranty and 70,000-hour lifespan. Revolution Lighting Technologies' all-plastic, single-end-power tubes enhance convenience and durability, providing a low-maintenance and high-efficiency lighting solution for the Parsippany-Troy Hills public school and its staff.
The introduction of new LED technologies provides schools with a significant opportunity to invest in projects that will provide a return on investment while enhancing lighting quality for students and staff. As seen with Parsippany-Troy Hills, the savings are continual, allowing schools to make better use of their budgets.
Continue Reading:

LED Lighting Upgrades Deliver Savings

LED Upgrade Benefits School's Pool

Planning for an LED Upgrade

CASE STUDY: Illuminating History: Center Shines after LED Upgrade

CASE STUDY: Smart Choice: LEDs Deliver Savings, Lighting Quality

CASE STUDY: LED Lessons: School District Taps into Benefits of Upgraded Lighting
---
---
---
Related Topics:
Comments