Variable Refrigerant Flow (VRF) Technology Makes Strides In The HVAC Market
First part of a two-part article exploring best practices for VRF technology.
OTHER PARTS OF THIS ARTICLE
Pt. 1: This Page
Pt. 2:
VRF Systems: Both Air-Source and Water-Source Available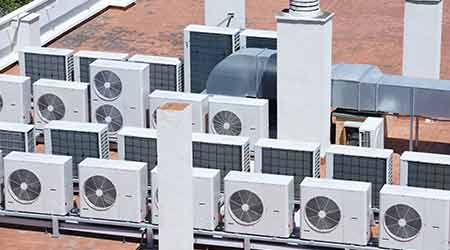 Although variable refrigerant flow (VRF) HVAC technology has been around for more than 30 years, its use in North America has been much less than in Asia and Europe. Today, VRF is a fast growing segment of the U.S. HVAC market, with offerings from a wide variety of major manufacturers.
Invented in the early 1980s, VRFs are able to simultaneously both heat and cool buildings by using the heat extracted from an area that needs cooling to heat another area. "It's able to pump heat between different rooms of a building without rejecting it outside," says Howard Ho, senior associate, building mechanical systems at WSP | Parsons Brinckerhoff. Instead, refrigerant from the heating units is transferred to cooling units and vice versa, making it extremely efficient.
Tim Chatterton, project manager at RMF Engineering, points out that "allowing the system to 'pass the heat' around to the areas that need it from the areas that don't is actually what helps make a VRF system more energy efficient."
Also contributing to VRF efficiency is the fact that the units aren't limited to on/off operations. By varying motor speeds and refrigerant flow, the systems provide varying levels of heating and cooling to different parts of a building.
VRF systems have two major components: a compressor and numerous indoor fan coil units. That modularity is a benefit, says Ho, because it makes it "easier to implement in little chunks." As a result, it is particularly suited for retrofitting buildings that didn't have chilled water or other systems previously in place.

VRF also good for retrofits
"In a renovation, especially one that may have historic preservation criteria to meet, VRF can be the superior option due to the fact that it does not require a large amount of ductwork and it's much easier to route half-inch refrigerant linesets though a building than it is to route a 12-inch by 12-inch duct," says Chatterton.
In addition, he notes, "the VRF terminal units can also be selected to blend into the existing building by using floor-mounted, wall-mounted, or ceiling-mounted units."
Another plus is precise and flexible control. VRF "systems provide flexibility for a higher level of individual control over room temperature due to each fan coil unit having its own thermostat," says Robby Oylear, associate with Mazzetti+GBA.
Chatterton says that "this aspect alone makes the system more efficient and better for the end users since each zone may be set to its own temperature setting."
A December 2012 report on VRF systems prepared for the U.S. General Services Administration by the Pacific Northwest National Laboratory notes that buildings with the following characteristics offer the best opportunities for VRFs:
• Inefficient HVAC systems plus high energy costs.
• Need for additional cooling capacity. (The report notes that adding cooling capability or capacity may increase total energy use despite possible reductions in fan and heating energy consumption.)
• Older and historical structures with limited space to install or change systems.
• New building projects that can take advantage of opportunities to reduce floor-to-floor height or to increase usable floor space by removing mechanical equipment from inside the main building areas. Ho says VRFs are "good applications for high rises" because all the condensing units can be located on the roof and refrigerant pipes run through the building.
• Variable-air volume (VAV) systems with electric reheat or heat pumps with electric back-up heat. The report cites an energy modeling study that showed up to a 70 percent reduction in HVAC energy use from a VRF system with exhaust air heat recovery as compared to a VAV system with electric reheat.
• Significant heating requirements. The report says that "the Midwest and Northeast are good places to look for opportunities in this regard."
• Inefficient fan systems.
• Ductwork that is leaky or poorly designed or installed.
VRFs are also worth considering for buildings that are already in line for HVAC upgrades, replacements, or energy improvements.

Other good VRF applications
Chatterton says that "office buildings with interior and exterior zones are good applications. A VRF system is also more appealing than a traditional VAV system since each office can have its own temperature control. LEED projects are good applications since you can design a VRF system to allow more than 50 percent of the occupants to have control over their own space. Hotels have also been a big proponent of VRF systems. A VRF can save money by only providing HVAC in rooms that require it, much like traditional PTAC units. However a VRF system is much quieter and allows the hotel more control over the system on a per room basis than a PTAC system."
A VRF can offer special benefits to smaller buildings, Oylear says. "Smaller projects can benefit from a system that is highly energy efficient and comes with built-in controls that offer features typical of a higher-end building automation system."
But that's not to say VRFs are only suitable for small buildings. Oylear says that "larger projects should focus on maximizing the energy efficiency through proper zoning strategies and locating outdoor units near to the zones they serve to minimize piping losses."
Continue Reading:

VRF

Variable Refrigerant Flow (VRF) Technology Makes Strides In The HVAC Market

VRF Systems: Both Air-Source and Water-Source Available
---
---
---
Related Topics:
Comments