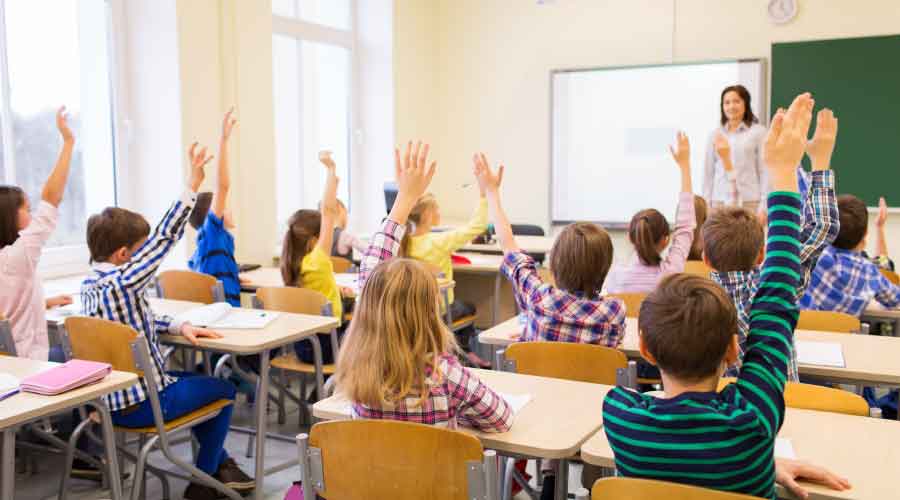 Improving IAQ Does Not Have to Break the Bank
The Healthy Green Schools & Colleges program helps managers identify and implement cost-effective improvements to HVAC systems.
Science supports indoor air quality (IAQ) improvements, but not all schools provide good IAQ. The U.S. Department of Education's National Center for Education Statistics finds that 25 percent of America's public schools report unsatisfactory ventilation, and 20 percent report unsatisfactory IAQ.
Maintenance and engineering managers often cite limited budgets as the reason for not making needed improvements. The Healthy Green Schools & Colleges new certification standard aims to change that. This partnership between the Healthy Schools Campaign and Green Seal helps managers identify and implement low- or no-cost measures designed to significantly improve school IAQ.
"Unhealthy indoor air, inadequate ventilation and chemical exposure from cleaning and maintenance routines are linked to poor concentration and test performance in students," says Rochelle Davis, president and CEO of Healthy Schools Campaign. "The Healthy Green Schools & Colleges program is designed for any school district or university that commits to providing safer and healthier indoor school environments, whether they are just getting started or are already leaders."
The first-of-its kind standard for healthy and sustainable facilities operations covers a range of practices, from cleaning and pest management to HVAC maintenance and IAQ testing and monitoring.
While all of these are areas of concern, HVAC system upgrades and maintenance represent a key area of focus. The pandemic put the onus on how well managers and their staffs maintained these systems, says Kimberly Thomas, senior director of facilities for the University of Georgia.
"A lot of the initial concerns during the pandemic centered on how facilities managers managed HVAC systems and their effects on IAQ," she says.
Some managers might seek to add newer and more efficient HVAC system components. But that step is a luxury many schools cannot afford. In most cases, managers must maintain IAQ with mechanical systems already in place.
"We don't get to choose the right equipment from the get-go," says Keith Webb, retired executive director of plant services for Newport News Public Schools, who now sits on the Healthy Green Schools Campaign steering committee. "The systems are already there."
Start with SOP
The Healthy Green Schools & Colleges program addresses IAQ concerns by identifying measures to keep IAQ high with the systems already in place. The standard guides schools through developing written standard operating procedures (SOPs), making outdoor air intake modifications and installing supplemental air cleaning systems as needed.
"HVAC systems control the air exchange in the room and clean the air," says Sara Porter, vice president of external affairs and director of the Healthy Green Schools & Colleges program. "There are so many components involved. Even if you have an older system, proper maintenance is incredibly important to make sure the systems work as effectively as possible."
The new standard recommends creating written HVAC system maintenance SOPs that include these:
Regular or quarterly HVAC system inspections using the U.S. Environmental Protection Agency (EPA) ventilation checklist from Tools for Schools. These inspections examine outdoor air intakes, system cleanliness, outdoor air supplies, air distribution, exhaust systems and quality of outdoor air.
Quarterly cleaning of clean air supply diffusers, grilles, return registers and outside air intakes to prevent contaminants from entering the system and spreading around the room.
Quarterly inspections of outside air intakes to ensure they work properly with no standing water in the vicinity of the air intakes.
Quarterly inspections of the building automation system, dampers, actuators and physical system components to ensure they work as designed.
A written response plan that prioritizes issues based on their scope, urgency and consequences for the safety, health and wellness of building occupants.
Creating and implementing an equipment replacement plan based on the expected lifetime of the equipment.
Thomas says managers can begin SOP development by establishing a baseline through facilities assessments, then developing a three- or five-year plan, considering the age and efficiency of the equipment and reviewing the existing preventive maintenance program.
"How often are technicians really doing filter exchanges?" Thomas asks. "You need to make sure you regularly manage your preventive maintenance plan. Preventive maintenance cannot be sporadic if you want to get optimal efficiency out of these systems. This is some low-hanging fruit to consider."
Managers also can draw upon existing toolkits to improve IAQ. These include guides from the Centers for Disease Control and Prevention (CDC), American Society of Heating, Refrigerating and Air-Conditioning Engineers (ASHRAE), Occupational Safety and Health Administration, and the EPA.
"The quickest and easiest toolkit to get started is the EPA ventilation checklist," Thomas says. "This baseline checklist gets you started from the instructor and employee level to facility managers."
Ronnie Wendt is a freelance writer based in Waukesha, Wisconsin.
Continue Reading:

HVAC

Improving IAQ Does Not Have to Break the Bank

Enhancing Indoor Air Quality Means Reevaluating Technology
---
---
---
Related Topics: