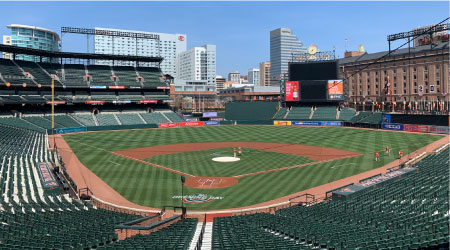 Weather Keeps Orioles' Head Groundskeeper Busy
Like the athletes that play baseball on the field she maintains, Nicole Sherry also thinks of herself as a competitor.
As one of only two women in the history of Major League Baseball to serve as a head groundskeeper, Sherry, doesn't track down fly balls. Instead, she's often monitoring the skies that serve as a roof over beautiful Camden Yards in downtown Baltimore, home of the American League East Division's Orioles.
"I love that my job challenges me every single day, if it's a weather condition that I totally have to change every plan to fit for that day," says Sherry. "It's not Groundhog Day. To a certain respect it is, and you're playing a game every day and it's the same set up every day, but the weather challenges me. The crew I work with motivates me, and the energy the fans bring, and it's just baseball. I love it and I love grass. It's a perfect job."
Sherry presented last month at NFMT Baltimore's Women in FM event, and following her presentation she talked about some of the challenges she deals with on a daily basis while keeping one of MLB's fields in tip-top shape to make it through a 162-game season spread over at least six months.
She started her career as an intern with the Orioles in 2001 on her way to becoming an assistant with the team. She later moved on to the Trenton Thunder, a Double A affiliate of the New York Yankees, to serve as the head groundskeeper. Three years later she returned to the Orioles and has served as the team's head groundkeeper since, earning her current title as Director of Field Operations.
"I got the call-up," Sherry says.
The energetic Sherry is especially excited for this time of year, as the baseball season prepares to start this week after a short delay caused by the lockout.
She shared some of the strategies she uses to take care of the field at Camden Yards.
"We cut the grass every single day from mid-April once it starts to get warmer though the entire growing season, which is probably until late-June, and then in July and August when it's super-hot we'll try to cut it every other day," Sherry says. "We'll try to extend that as long as we can because the grass isn't putting out any energy in the heat. As soon as the night temperatures cool way back down, we'll get out there every day, but there's breaks when we'll extend a week or two."
As a longtime groundskeeper at the big-league level, Sherry knows all about the myth that teams tailor their fields to accommodate the home team or slow down a road team's speed by changing the length of the grass for a particular opponent. She says the practice was more common in the past, but sometimes tricks can find their way to the field.
"They used to do everything to manipulate the grass depending on what team was coming in," she says. "Now with regulations, people are always watching and doing testing so you can't do that anymore. But we do little things to have a homefield advantage."
Look for more thoughts from Sherry and other grounds managers in an article on mowing strategies for athletic fields in a future edition of Facility Maintenance Decisions.
Dave Lubach is managing editor of the Facility Group.
---