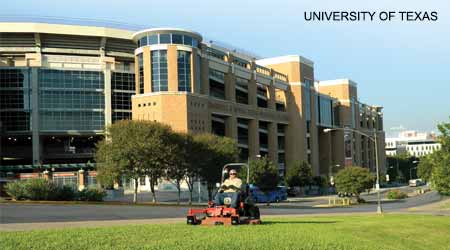 University of Texas Offers Mowing Sustainability Challenges
Part one of a 3-part article on mowing management at the University of Texas
Mowers that grounds crews use to maintain turf at institutional and commercial facilities have come under more scrutiny as organizations seek to make their facilities and landscapes more sustainable.
Establishing an effective mowing program that incorporates sustainability is a challenge for any grounds manager, but the task is even more complex at a large organization, such as the University of Texas at Austin, one of the largest public universities in the country. In recent years, the department has tried to enhance the sustainability of its operations by embracing such components as alternative fuels and organic fertilization program.
Sustainability at institutions like the University of Texas is achieved "one step at a time," says John Burns, the university's manager of landscape services. "In some cases, I'm sure it's harder for a larger university because change has to happen on a larger scale. I would compare it to turning a large ship versus turning a small boat. It takes more time to turn the large ship, but once it is going in the right direction, it may be easier to keep it on course."
Managing the fleet
Turf areas remain a prominent focus of sustainability for the university, and the four-man crew that handles mowing duties has plenty of ground to cover. The main campus consists of more than 430 acres, and a research campus consists of about 450 acres. Two nearby smaller campuses bring the total maintainable acreage to more than 900 acres.
"In the active growing season, they're mowing weekly," Burns says. "And once they finish (all the campus areas), they start over. It takes a week to complete the campus, and they have to travel to the remote sites one day a week."
Each member of the crew is responsible for specific campus zones. In addition to mowing, the crew leaders are responsible for trimming, collecting trash, weeding, and irrigation. Crews use tractor-pulled gang mowers and zero-turn mowers to maintain the research campus because of its wide-open spaces.
The university's mower fleet consists of eight 72-inch zero-turn mowers, four of which are kept for backup in case of mechanical problems. Crews use smaller mowers, including push mowers and a 36-inch stand-on mower, to mow in tighter spaces and higher-profile areas because they provide a higher-quality cut.
The university's main campus — occupied by a student enrollment of 50,000, as well as faculty, staff, and visitors — receives most of the mowing crew's attention. Universities strive to keep their campuses looking pristine not only for the benefit of occupants, but to appeal to potential students and the general public visiting for on-campus events.
The main campus area includes 125 acres of turf area, including a number of smaller areas that require more than a quick run-through with a riding mower.
"In concert with all these larger mowers, we have trim mowers for our crews," Burns says. "Our campus is split up into eight zones, and each zone has a couple of 21-inch mowers they use for trim mowing."
"The way our mowing operation works, we have our large mowers go through, and then the zone teams will do the trimming with string trimmers and push mowers. We don't do much with the push mowers, but each zone has them. We usually mulch our leaves as much as we can using our mulching decks, but then our teams follow behind and rake."
Because the campus is densely packed with facilities and landscape components, as well as students, faculty and staff members, mowing crews need to be alert.
"There are a lot of small areas, so we have to deal with jumping curbs, tight turns, and a lot of students," Burns says. "There are a lot of trees, beds, and buildings, streets, parking lots and sidewalks — a lot of obstacles."
Continue Reading:

Grounds Management

University of Texas Offers Mowing Sustainability Challenges

Propane, Organic Soils Among University of Texas Sustainability Priorities

University of Texas Looks to Sustainable Future
---
---
---
Related Topics: