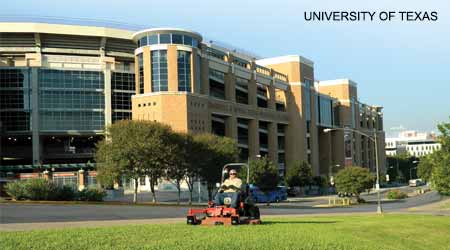 University of Texas Looks to Sustainable Future
Part three of a 3-part article on mowing management at the University of Texas
Construction continues at the University of Texas, resulting in even more mowing challenges and sustainability opportunities.
"As we get smaller and smaller (turf areas) and a more compact campus from building, we always have to think about going to smaller mowers," Burns says. "But at this point, the 72-inch mowers are still working for us very well."
The campus plans to open a 515,000-square-foot medical complex in June 2016 that includes a hospital, research areas, offices and classrooms on 10 acres of land. The medical complex seeks accreditation from the Sustainable Sites Initiative (SITES), a program administered by Green Business Certification, a certification and credentialing organization within the green business and sustainability industry.
As part of the initiative, which helps facilities address issues such as climate change and resource depletion, the landscape services department intends to use electric mowers to maintain the grounds. Burns says the opportunity to try electricity-powered motors gives the university a chance to see if the technology might eventually replace its propane-fueled mowers.
"We'll use all electric trimmers, mowers and blowers at the medical facility," Burns says. "We haven't purchased the equipment yet. There won't be a lot of mowing in that area, but there will be some. Our goal is to go completely electric there. We're looking to address noise levels (and) emissions, and it is a bit of an experiment. With the SITES accreditation, sustainable practices are very important. So use of an alternative, renewable fuel source was a factor."
As the campus evolves to become even more sustainable, the landscapes, like the mowing equipment, also will change.
"As the years go by and we're able to do renovations, turf areas will be converted to native grasses," Burns says. "But in those cases, they'll still be mowed from time-to-time. We'll still be mowing them several times a year, whether it's quarterly or periodically, depending on the year."
Continue Reading:

Grounds Management

University of Texas Offers Mowing Sustainability Challenges

Propane, Organic Soils Among University of Texas Sustainability Priorities

University of Texas Looks to Sustainable Future
---
---
---
Related Topics: