Propane, Organic Soils Among University of Texas Sustainability Priorities
Part two of a 3-part article on mowing management at the University of Texas
OTHER PARTS OF THIS ARTICLE
Pt. 1:
University of Texas Offers Mowing Sustainability Challenges
Pt. 2: This Page
Pt. 3:
University of Texas Looks to Sustainable Future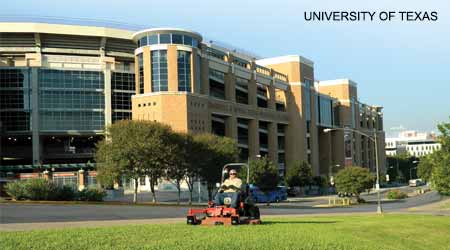 The mowers the landscape services department uses are 2-15 years old, and the department typically buys new equipment every two-three years, unless a lack of mechanical issues allow Burns and his team to delay replacing a piece of equipment.
No matter when a purchase takes place, the department's sustainability efforts mean such features as propane power and mulching decks are high priorities.
Propane is "probably No. 1 as far as what we've required the last 10 years," Burns says. "We (use propane) for several reasons. (One is) emissions. It's a longer-running mower. And it's a cleaner burning fuel, so the engines last longer. But one of the simplest reasons is we have a (propane) filling station on campus right next to our facility. As guys head to campus, they drive by it."
The use of mulching decks contributes to the department's fertilization activities.
"The mulching decks are better for our grass and better for the environment," Burns says. "The whole goal of the (fertilization program) is to get away from synthetics and (to) build our soils. Mulching decks fit right into that process because we're putting the organic materials back into the soil, and not hauling them off."
"We don't deal with grass clippings. We mow them, they go back into the soil, and we haven't had any issues. Some people have had thatching issues, but we haven't had those issues at all."
The issue of noise pollution has become a higher priority in recent years, something Burns says the department will continue to consider in specification.
"We haven't paid as much attention to noise as sometimes we maybe should," Burns says. "I've been around our mowers, and they definitely have a fairly high noise level. Our (technicians) use ear protection, but it's something we should consider as one of our criteria."
The specification process has changed over the years for the university, which relies on a cooperative purchasing program called BuyBoard that is designed to help schools, municipalities and government agencies control costs for equipment and services.
"In the old days, we had to write really tight specs and try to get what we wanted right down to the nuts and bolts," Burns says. "The way things are working these days, the state of Texas has quite a few different vendors that have mowers on their BuyBoard, so we're able to go there and just buy it. Whatever brand we feel like we want, they usually have all the different models available, and we get the piece of equipment that we want."
The process has helped speed up the time it takes to purchase mowers.
"In the past, it might take several months to go through a process," Burns says. "Now, it's about three weeks or a month."
Continue Reading:

Grounds Management

University of Texas Offers Mowing Sustainability Challenges

Propane, Organic Soils Among University of Texas Sustainability Priorities

University of Texas Looks to Sustainable Future
---
---
---
Related Topics:
Comments