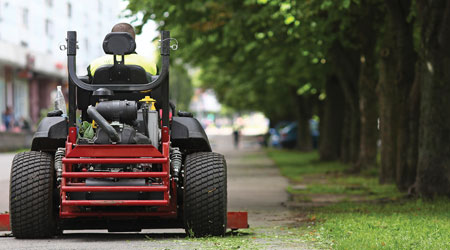 Managing Mower Fleet Maintenance Challenges
Managing operations presents a number of challenges for managers. Here's how to overcome them.
Workers are only as good as their tools. Skilled workers might be able to perform tasks adequately without the best or best-maintained tools, but the outcome will not be as accomplished or efficient as it could be without well-maintained equipment. This is especially true for grounds managers who have the responsibility of managing mower fleets at institutional and commercial facilities.
Keeping their equipment — especially mowers — in top shape allows grounds managers to ensure equipment operators keep properties pristine. What are some of the challenges of keeping a commercial mower fleet up and running efficiently, and what options are available for today's mowers to ensure that operators have the most effective tools to do the job?
Managing fleet challenges
Managing a fleet of mowers "is really kind of a twofold situation," says Nick Minas with John Deere Commercial Mowing.
"There's the day-to-day operational stuff that has its own unique set of challenges, machine uptime being the core of that," he says, adding that making sure "everything is in proper shape — are belts in good shape, in workable shape, do I have any flats, are spindles greased properly — keeping the machine or the fleet up and running."
Depending on the size of the fleet, a department might have multiple people working just in fleet management to ensure that machines are maintained properly, Minas says.
"Then you have the long-term challenges; basically, life-cycle," he says. "How soon should I replace the fleet or half the fleet?"
Labor shortages are also a challenge these days. While fleet managers "may have the amount of equipment they need, they don't always have the staff," says Aaron Griffith with Cub Cadet.
The best advice to keep a fleet in service is to not ignore or postpone the necessary routine maintenance that will keep equipment functioning efficiently, as well as extend the life of the equipment.
"Maintenance is critical for efficient and problem-free operation," says Tom Vachal with Kubota Tractor Corp. "Regular oil changes and air filter cleaning are the most critical to maintain your engines. This should be done at a minimum of weekly, but depending on conditions — very dusty and dry conditions would require more frequent cleaning/replacement — it could be more frequent." Other routine maintenance include:s checking for and keeping the machine free of debris; performing visual inspections of belts and replacing them when necessary; and inspecting, sharpening, and regularly replacing blades.
Minas advises grounds managers to ensure that mechanics follow the maintenance schedule provided in the owner's manual to extend the performance life of mowers.
"It lays out specifically what you should be doing daily, weekly, monthly, annually, and every so many hours," he says.
Keeping equipment clean is also important.
"Keeping a clean machine looks more professional, helps the machine perform its best, and helps avoid potential overheat issues," Griffith says.
Adds Minas, "At the end of the day, the finished product, what that grass looks like when a contractor leaves the property, that's their calling card. Nothing else matters except what the turf looks like when they leave."
Continue Reading:

Grounds Management

Managing Mower Fleet Maintenance Challenges

How to Determine Whether to Repair or Replace Mowers

Partnering with a Dealer Can Help Ensure Mower Selection Success
---
---
---
Related Topics: