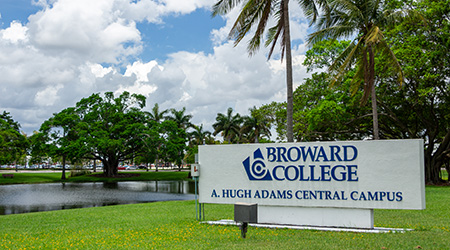 How to Maximize Mowing for a Good First Impression
Broward College rolls with changes to ensure mowing and other priorities enhance campus appearance.
Appearance is everything. Or so it can seem when it comes to the role landscapes play in creating positive first impressions for higher education facilities. Prospective students and faculty consistently rank a campus's appearance as a critical factor in determining where they will take their talents.
Laura Ozment understands the role of landscapes in higher education better than most. As the manager of college-wide landscape and grounds maintenance with Florida's Broward College, Ozment has first-hand knowledge of the way landscapes affect the institution's image among visitors and staff.
"Visitors to our campuses often express an appreciation of the lush landscaping and inviting features, such as picnic tables, patios, and lounge areas," Ozment says, adding that the landscapes must complement the organization's varied facilities. "Our architecture ranges from carefully curated buildings from our origins in the early 1960s to impressive modern glass structures designed in a way that feels cohesive and timeless."
While sweeping flower beds and soaring trees can go a long way in creating these impressions, turf areas often bring it all together. They need to be both aesthetically pleasing and durable enough to stand up to everyday use. For these reasons, managers pay a great deal of attention to mowing activities that keep turf areas attractive and healthy.
Assessing resources
Broward College has 11 campuses consisting of three main campuses and eight satellite centers around the Fort Lauderdale area.
"Our landscape and grounds maintenance department provides service at these campuses through a combination of in-house staff, service contracts and municipal partnerships," Ozment says. "Of approximately 375 total acres, 35 acres are lakes and wetlands, 75 acres are parking, 65 acres are under building footprint, and 200 acres under turf."
The department employs about 20 full-time year-round staff who are responsible for mowing, detailing, mulching, fertilizing, weed and pest control, tree trimming, parking lot maintenance, litter abatement, irrigation system maintenance, planting projects, and providing decorative plants for special events.
To handle the mowing tasks, the department uses a fleet of mowers with a variety of purposes.
"Nine commercial zero-turn mowers are the anchor of our equipment fleet," Ozment says. "These 52- and 72-inch and reel mowers are between two and 10 years old."
As with many landscape and grounds departments, Ozment's department supplements its mowing-specific equipment with specialized tools.
"Our in-house staff uses heavy-duty utility vehicles all equipped with dump beds, sunroofs, and roll bars to perform daily operations on campus," she says. "Handheld equipment, such as blowers, edgers, and weed eaters, are commercial grade. All equipment is maintained by our own fleet services team."
One critical element of effective mowing programs involves training for operators and mechanics that targets safety and efficiency.
"While all our equipment operators are highly experienced, we require online safety training on a variety of topics, such as machine guarding, working on slopes, overhead hazards, preventing heat stress and exhaustion, bloodborne pathogens, chainsaw operation, and personal protective equipment, among others," Ozment says. "Supervisors perform regular safety inspections of equipment and review safe operating procedures in accordance with governing agencies and best management practices. Our fleet services department provides mechanical support. Mechanics are ASE certified and knowledgeable in brand-specific maintenance."
Rolling with the changes
While mowing is a top priority for landscape and grounds care departments, their roles in maximizing the appearance and health of campuses have evolved and expanded in recent years. As colleges and universities pay greater attention to the importance of landscapes and grounds in achieving broader, longer-term goals, managers and their staffs find themselves more involved in discussions of projects and duties that go beyond mowing.
"We have approximately 200 acres under turf in open areas and parking lot islands," Ozment says. "Two of our main campuses are maintained by college staff, with campus centers maintained by contracted service providers. Our college staff has an active presence at all locations, consulting and assisting with service providers' needs. We frequently provide support related to irrigation systems and are ready to assist with any needs outside the scope of contracted services."
Increasingly, managers of grounds and landscape departments are getting involved in planning for campus construction projects, where their expertise can help ensure a facility's best appearance from the time it opens.
"Having in-house staff with our strong sense of ownership allows us the flexibility to respond quickly to unscheduled or unforeseen circumstances," Ozment says. "For example, our grounds and landscape department may be called upon to consult on construction projects where landscape elements, such as trees, were not specifically addressed. We are strongly committed to the protection and preservation of trees and require that protective measures be taken in accordance with municipal codes and best management practices.
"In addition to the aforementioned duties, we coordinate with and respond to requests from our planning, design, and construction team to help ensure projects run smoothly. Broward College is continually undergoing improvements and renovations to keep our facilities clean, attractive and state-of-the-art."
Just as nature constantly changes and presents new challenges, managing landscape and grounds departments continues to change and adapt, often in response to outside events and forces.
"The rising cost of materials and limited availability have prompted us to be more flexible in our product choices and frequency of some operations," Ozment says. "For example, we have reduced the size of some landscaped beds to lessen mulch and other costs. We are working closely with other maintenance teams to identify landscape elements that conflict with building operations and reduce or eliminate those features.
"While many institutions are experiencing labor shortages, Broward College has an extremely dedicated staff of long-time employees who continue to work daily to ensure we provide a safe, healthy, and productive learning environment."
Whatever the challenges, Ozment and her team know the long-term goal is to maximize the health and appearance of the college's landscapes and grounds, all to safeguard the image of institution.
"While we continually evaluate operations based on changing conditions, our current blend of Broward College staff and contracted services enables us to uphold a high standard across a large urban area while still providing a personal and timely response to our students, faculty, and visitors," she says. "It is well established that quality facilities figure prominently in student enrollment and retention, and we are proud of our contribution to Broward College as a consistently award-winning institution."
Dan Hounsell is senior editor for the facilities market. He has more than 25 years of experience covering engineering, maintenance and grounds management issues in institutional and commercial facilities.
---
---
---
Related Topics: