How University of Michigan Improved Sustainability of Snow and Ice Operations
Part 3 of a four-part article on snow and ice management at the University of Michigan
OTHER PARTS OF THIS ARTICLE
Pt. 1:
Snow and Ice Management Practices Evolve
Pt. 2:
Winter Preparation Presents Staffing Challenges
Pt. 3: This Page
Pt. 4:
Preparing the Grounds Services Fleet for Winter Season
Pt. 5:
PRODUCTS: Snow and Ice Management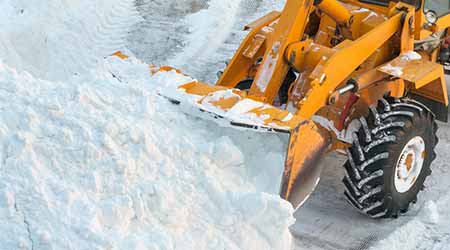 Like many other institutional and commercial facilities in recent years, the University of Michigan has improved the sustainability of its grounds-related operations and activities. In the university's case, one of the biggest changes has been in its use of chemicals to prevent and remove snow and ice. Specifically, the department has embraced the use of liquid chemicals to replace traditional materials.
"Over the years we've tracked it since 1990, our salt used has dropped by more than 50 percent, mainly because of liquids," Doletzky says, adding that the department uses about 250,000 gallons of liquid de-icer annually. One successful strategy involves using chemicals to prevent ice.
"We started anti-icing about 2000," he says. "It involves mixing salt into a brine and applying it to the sidewalk in a liquid form prior to a snow event.
It prevents snow and ice from bonding to the sidewalk and allows for easier mechanical removal. It requires less salt overall to make the surface safe.
"On campus, there are kids out all night long, so if you leave the snow on all night and they walk on it, it turns into ice or at least packed snow, and it's hard for our plows and rotary brooms to peel that off. The anti-icer forms a layer, and the snow brooms right off clean. It's a proactive approach to snow removal."
The department uses two liquids:
• A salt brine that is 23 percent sodium chloride in solution. Crews use this mixture as a de-icer after brooming or in direct applications to walks, roads and parking lots for snow amounts less than one-quarter inch when ground temperatures are above 20 degrees.
• A mixture of 90 percent salt brine and 10 percent enhanced chloride liquid de-icer, an engineered corn byproduct mixed with magnesium chloride.
The mixture works better at lower temperatures than straight salt brine and is less corrosive.
Among the benefits of these liquids is that crews can apply them before the snow falls, Doletzky says, adding that they also allow for easier and more thorough mechanical removal and more even distribution. In terms of sustainability, they also offer better protection to the environment and infrastructure.
The department still uses bagged granular products for removing snow and ice. For entryways, crews use a commercial product that is a blend of magnesium, sodium and potassium chloride, Doletzky says, adding that the all-purpose de-icer is less likely to track into buildings and cause slippery floors.
Crews also apply magnesium chloride, Doletzky says, but only when temperatures are below zero and ice has formed. The chemical provides good melting properties at low temperatures.
Continue Reading:

Grounds Management

Snow and Ice Management Practices Evolve

Winter Preparation Presents Staffing Challenges

How University of Michigan Improved Sustainability of Snow and Ice Operations

Preparing the Grounds Services Fleet for Winter Season

PRODUCTS: Snow and Ice Management
---
---
---
Related Topics:
Comments