Preparing the Grounds Services Fleet for Winter Season
Part 1 of a four-part article on snow and ice management at the University of Michigan
OTHER PARTS OF THIS ARTICLE
Pt. 1:
Snow and Ice Management Practices Evolve
Pt. 2:
Winter Preparation Presents Staffing Challenges
Pt. 3:
How University of Michigan Improved Sustainability of Snow and Ice Operations
Pt. 4: This Page
Pt. 5:
PRODUCTS: Snow and Ice Management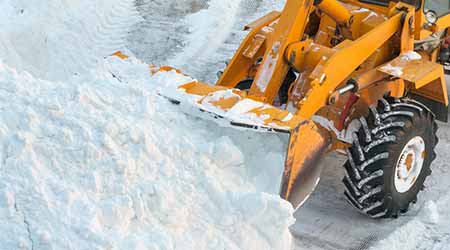 Complementing the modified use of chemicals to prevent and remove snow and ice, the grounds services department at the University of Michigan deploys a fleet of powered equipment that aims to meet the evolving needs of effective grounds management.
One resource at the disposal of crews are 18 grounds vehicles designed to combine several machines into one, providing the versatility crews require.
"One thing we did when those hit the market, is we started buying those to replace two pieces of equipment," Doletzky says. "We had tractors that we would put rotary brooms on in the winter, and we had utility vehicles for the rest of the season. The (grounds vehicle) replaces both of those pieces. We've really tried to gear our equipment toward a multi-use, multi-season approach to get more use out of them."
The department also deploys 10 specially designed mowers that crews can adapt for their winter needs.
"Both the (grounds vehicles) and the (mowers) have interchangeable attachments, so you can put on a broom or a plow or a snowblower on," Doletzky says. "Whatever we need to use, we have. The (grounds vehicle) also has a liquid tank on the back, and we can put granular spreaders on the back."
In addition, the department uses:
• Four tractors. "We kept those because we do need some tractors in the summer, and we put brooms and cabs on them in the winter," Doletzky says.
• Five mowers that crews can outfit with brooms and cabs.
• Six utility vehicles. "We can also put a plow on them or a spreader, but they're mainly for getting people around in the winter for shoveling," he says.
• Two large wheel loaders, two front-end loaders and three skid loaders.
"We have three large salt trucks with belly plows and front-end plows that are mainly used on the roads," he says. "Also, we have three smaller salt trucks with plows that are mainly used for roads and parking lots."
The large salt trucks feature advanced technology that enables operators to gauge the progress of the storm and adjust their chemical applications as conditions change.
"On our large salt trucks, we've added ground-speed and ground-temperature components," Doletzky says. "The operator can actually plug in the rate of salt application. That rate is based on the ground temperature, as well as what the current and forecast conditions are.
"If it's snowing and it's going to continue to snow, the rate of application is going to be a little higher. If the snow event is done and they're in cleanup mode, and the temperature is rising, it will dial back the rate of distribution. Once they enter the distribution rate into the computer system, the truck adjusts the rate to the speed they're traveling. We're always putting down the correct amount of salt and not oversalting."
For Doletzky and his team, the proof that they are achieving success in their efforts to manage snow and ice on campus comes in the form of inquiries from their peers.
"We actually have had people come and visit," he says. "Almost every winter, we have probably a dozen businesses or other campuses come and visit to learn from us on how they can implement using liquids. That's a feather in our cap."
Continue Reading:

Grounds Management

Snow and Ice Management Practices Evolve

Winter Preparation Presents Staffing Challenges

How University of Michigan Improved Sustainability of Snow and Ice Operations

Preparing the Grounds Services Fleet for Winter Season

PRODUCTS: Snow and Ice Management
---
---
---
Related Topics:
Comments