Hand Tools Lift Landscapes From Average to Extraordinary
Grounds crews need smaller equipment to focus on the finer details.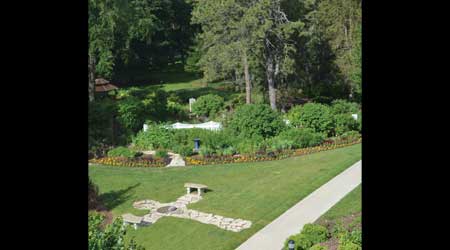 Rogers Behavioral Health
At first blush, a hospital, university, and golf course appear to have little in common. But all of them find common ground in their landscaping operations.
First impressions count at every organization. A university attracts new students and professors with picture-perfect grounds, a hospital's landscape shows it's a tranquil place to recoup, and an exclusive country club brings in golfers with a picturesque well-maintained course and magnificent landscaping.
As associate director of grounds and landscape services at the University of California (UC) Davis, Tyson Mantor oversees the care of more than 6,000 acres. Most of the acreage encompasses the UC Davis Arboretum and Public Garden, home to more than 20 different gardens packed with native plants and plantings. The remaining 1,000 acres envelopes the campus residence halls and education buildings.
Mantor first concentrates efforts on keeping grounds safe for students, professors, and other professionals visiting the third largest university in California. Keeping grounds looking magnificent is his next priority.
"First impressions matter," Mantor says. "We tell our folks to set up postcard moments. Graduation time is a good example. Families visit and take pictures on graduation day, and the beautiful landscape is always in the background. We aim to create that picturesque environment every day."
Tuckaway Country Club in Franklin, Wis., hosted the Greater Milwaukee Open for 20 years, and the golf world hails it as one of the finest 18-hole country clubs. Its grounds crew needs to maintain this stellar reputation and keep the large, undulating greens, tree-lined fairways, strategically placed bunkers, and clubhouse gardens looking pristine throughout the season.
It's a job that Jim Poitz, Tuckaway's golf course superintendent, takes seriously. He says a private club has no sole proprietor, but hundreds of members who expect the course and grounds to look spectacular. Scratch golfers demand perfection for the tees, greens, and fairways, while other members seek landscaping designed to impress.
"They are all my boss," he says. "We always need to take our landscaping to the next level. The aesthetics determine how the place feels and helps us attract new members, too."
Environmental services workers at Rogers Behavioral Health strive to preserve a living legacy started by Theresa Rogers, the wife of founder Arthur Rogers. The Oconomowoc, Wis., campus rests on more than 60 acres, with 2 acres of gardens originally planted by Theresa.
"Our gardens have an abundance of history behind them. Theresa Rogers planted them almost a century ago, to incorporate the healing powers of the environment into patient treatments," says Matt Pochinski, director of Environmental Services at Rogers Behavioral Health. "It's vital to keep landscaping well maintained because of its healing properties."
When the landscape matters, the tools that maintain it matter, as well. All three entities employ a mixture of large equipment and smaller handheld tools to keep grounds in tip-top shape. But while bigger equipment performs the lion's share of the work, the handheld tools finesse the landscaping details.
"Working in and around the gardens takes finesse," Pochinski says. "Those areas look much better when we use smaller, handheld tools to maintain the landscape."
The finer details
Rogers Behavioral Health employs three full-time gardeners and a full-time maintenance technician who specializes in grounds maintenance. A team of seven maintenance technicians also helps keep the facilities maintained.
This team relies on a fleet of trucks and utility vehicles for snow removal and grounds maintenance, smaller golf carts, brush mowers, large lawn mowers, and other large-scale grounds equipment. It rounds out its maintenance arsenal with backpack blowers, chainsaws, pull saws and other handheld tools.
The team's role changes by season with a focus on grounds clean up and readying garden beds for annual flowers every spring. Summer switches daily chores to garden and grounds maintenance while autumn involves cutting back plants, planting fall flowers, and readying grounds for winter.
Workers often opt for handheld equipment when working in the gardens and near the patient occupied buildings, Pochinski says.
"For example, we use gas-powered blowers to clean up the grounds then switch to battery-operated blowers near flower beds and patients," he says.
Tuckaway Country Club employs a 28-person team during golf season. For edging, cutting perennials, and gardening, the team relies on handheld tools such as: its battery-operated grease gun for equipment maintenance; brushcutters with reciprocating blades to trim, prune and edge; chainsaws, gas-powered trimmers, shears and hedge trimmers; and leaf blowers.
The handheld tools elevate Tuckaway's landscape to exceptional. Poitz says one of its claims to fame is the 6,000 trees lining the course. Keeping trees healthy and growing requires special care. The mowers cannot bump up against them.
"We try to cut as close as possible without hitting any trees," he says. "Every two to three weeks we weed whack around every tree."
It takes 10 people six hours to trim around every tree on the course's 144 acres. He also sends out two additional people — one to keep trimmers full of string and the other to keep them running. The same thing happens when the team uses a turbine to blow leaves. Crews get as close to bunkers as they can but use handheld blowers to remove leaves from sensitive areas.
The equipment story is the same at UC Davis where a team of 40 people maintains campus landscapes. For finer details, the crew uses backpack blowers, trimmers, reciprocators, pull saws, hand pruners, and hand loppers.
"With our employee-to-acreage ratio at 17.5 acres, we must use equipment that makes us as efficient as possible," Mantor says. "We've come a long way. Forty years ago, UC Davis didn't supply power equipment. They had gas-powered mowers, but everything else was hand operated. But they also had a higher employee-to-acreage ratio back then. We could not do the job today, with the staff we have without power equipment."
Move to battery operated
In November 2013, UC Davis President Janet Napolitana announced the Carbon Neutrality Initiative, which commits the university to emitting net zero greenhouse gases from its buildings and vehicle fleet by 2025. The school has installed a hot water heating supply, a large solar panel farm, and other sustainable measures. Mantor is eager to do his part by adding electric handheld tools.
He started purchasing battery-powered handheld tools in 2020 and eventually will issue each groundskeeper a battery-operated backpack blower, trimmer, reciprocator, pull saw, hand pruner, and hand lopper. Battery-powered equipment costs are generally the same as gas-powered handheld tools, but lithium-ion batteries can cost upward of $1,300.
"Companies report batteries last many years, so we are taking a leap of faith," Mantor says. "When you consider the maintenance costs and gasoline prices for gas-powered tools, we think we'll come out even in the long run."
Electric handheld tools also feature more ergonomic and lighterweight designs, Mantor says.
"The electric blowers are designed to rest on the hip, putting the weight on a person's hips and waist instead of their shoulders and wrists," he adds. "Workers can get a lot more done and to a high standard."
UC Davis' workers rely on hand-powered tools to trim shrubs and plants, but Mantor says they are considering battery-powered pruners.
"Rather than having people operate a hand pruner, they would use an electric pruner," he says. "It can reduce worker's comp issues. When you have folks hand pruning for hours, they can develop carpal tunnel issues and other injuries."
Mantor allows staff to test tools before buying electric equipment.
"People get very attached to their tools, and we don't want to force them to use a tool that doesn't perform as well as gas-powered ones," he says. "Our specialists test the equipment and if they like it — as long as it's cost-effective to operate and efficient — we will buy it."
A top consideration with battery-operated equipment is keeping it charged. Though the equipment can run for eight hours on one charge, there must be a way to recharge batteries before the next shift, and workers must get in the habit of charging them.
UC Davis put charging stations in its storage sheds. Groundskeepers put their batteries in charging stations at the end of their shifts.
"When they come in the next morning, the batteries are fully charged," Mantor says.
Rogers Behavioral Health also has switched to some battery-powered hand tools and added battery charging stations. The facility staff purchases two batteries for each hand tool to prevent a shortage of battery power.
"The use times are shorter than with a gas-powered mechanical device," Pochinski says. "Should a battery need recharging, we can swap out the battery and continue working to maintain efficiency throughout a project."
When tasked with keeping large landscapes looking pristine, the devil is in the details. Handheld tools such as trimmers, pruners, edgers, and backpack blowers can help workers elevate landscapes from average to exceptional.
Ronnie Wendt is a freelance writer based in Waukesha, Wis. She owns In Good Company Communications, which specializes in writing about facility management.
---
---
---
Related Topics:
Comments