You Might Like
On FacilitiesNet
Facility Manager Cost Saving/Best Practice Quick Reads RSS Feed
Water Efficiency Scrutiny in Commercial Kitchens
November 7, 2018 - Contact FacilitiesNet Editorial Staff »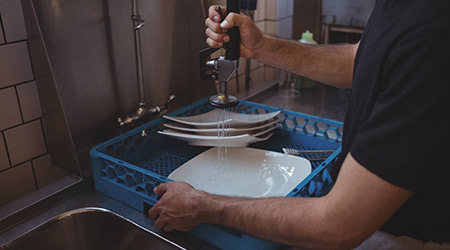 Water conservation remains a high priority for nearly every region of the United States, and the pressure to save water in plumbing, HVAC and irrigation systems is only going to mount. The search for water efficiency now extends into every area of institutional and commercial facilities, including kitchen and food service operations.

WaterSense labeling no longer will be available for commercial kitchen pre-rinse spray valves (PRSVs) after Jan. 1, 2019, according to a notice from the U.S. Environmental Protection Agency (EPA). The specification is being retired because new PRSVs now must meet or exceed WaterSense efficiency criteria anyway.

PRSVs normally are mounted on stretchy gooseneck hoses and are used to rinse dishes, usually before they go into a dish machine. Commercial kitchens use about 51 billion gallons of water annually in for dish pre-rinse, according to EPA. The federal standard flow rate for PRSV before 2019 has been 1.6 gallons per minute (gpm).

The PRSV WaterSense label debuted in September 2013. It addressed spray force performance and water efficiency with flow rates not exceeding 1.28 gpm. A new U.S. Department of Energy rule takes effect on Jan. 28, 2019, that require products to perform according to ASTM F2324, which was beefed up to meet WaterSense efficiency criteria.

EPA will continue to maintain a list on the WaterSense website of the more than 40 different models of PRSVs that had earned the label to recognize those models that were certified to meet its efficiency and performance criteria.

This Quick Read was submitted by Naomi Millán, senior editor, Building Operating Management.
---
Comments