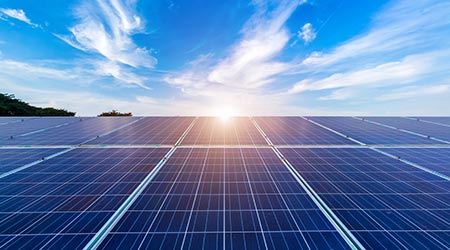 Solar Costs Less Than Coal, Natural Gas: Report
The million-dollar question for facility managers has long been how to make the economics of solar work. If the payback for investing in the technology is longer than 10 years — as was often the case with solar projects — managers likely had a tough time justifying the investment to top management.

But the cost of solar has dropped dramatically in recent years because the cost of materials has decreased, technology has improved, and expertise and the availability of skilled installers have increased. These developments are great news for managers interested in building-level solar, but they are better news for the planet. Why? More feasible large-scale renewable energy projects reduce emissions and mitigate the worst effects of climate change.

The annual Levelized Cost of Energy study from financial advisory company Lazard shows that the cost of utility-scale solar energy is now $26 per megawatt hour, which is about the same as coal. In its analysis of the study, the Solar Energy Industries Association (SEIA) summarizes the findings this way: "Solar energy is more cost-effective than traditional power sources even without tax subsidies."

Solar prices also are dropping more rapidly than other energy sources, according to the report. Solar prices have dropped 88 percent in nine years and 13 percent in the last year. The United States has more than 58 gigawatts of solar installed, according to SEIA, which expects solar production to double over the next five years — a forecast that could increase if costs continue to decline.
Greg Zimmerman is executive editor of Building Operating Management. Read his cover story on how buildings are tackling climate change.
---