You Might Like
On FacilitiesNet
Facility Manager Cost Saving/Best Practice Quick Reads RSS Feed
July 2018 Sets Temperature Records. What Now?
August 16, 2018 - Contact FacilitiesNet Editorial Staff »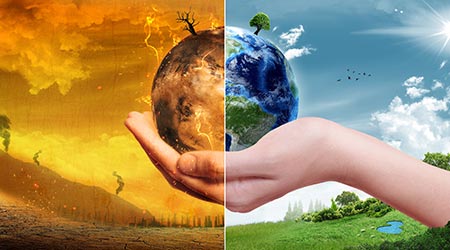 While extreme temperatures are becoming the new normal, the statistics sometimes are still shocking. For instance, in July 2018, Death Valley set a world record for the highest average temperature for an entire month. That's in the history of the recorded temperatures anywhere in the world. The average temperature for the month was 108.1 degrees. But it was not just Death Valley. July was the hottest month on record in places as wide-ranging as Reno, Nev., to Burlington, Vt.

At the building level, the effects of climate change become evident in the form of higher air conditioning costs. It's the dreaded positive feedback loop: As climate change causes the earth to bake, more energy is required to condition space, and as more energy is produced from dirty fossil fuels, more greenhouse gases are released to the atmosphere, further exacerbating the effects of climate change.

For facility managers, helping to mitigate climate change is certainly about being more energy efficient, but it goes beyond that. It is also about inventorying and reducing the greenhouse gas emission the organization is responsible for.

The U.S. Environmental Protection Agency (EPA) defines greenhouse gas emissions in three scopes:
Scope 1 GHG emissions are direct emissions from sources owned or controlled by the agency. Scope 1 includes on-site fossil fuel combustion and fleet fuel consumption.
Scope 2 GHG emissions are indirect emissions from sources owned or controlled by the agency. Scope 2 includes emissions that result from the generation of electricity, heat or steam purchased by the agency from a utility provider.
Scope 3 GHG emissions are from sources not owned or directly controlled by EPA but related to agency activities. Scope 3 emissions include employee travel and commuting, as well as emissions associated with contracted solid waste disposal and wastewater treatment. Some Scope 3 emissions can also result from transportation and distribution losses associated with purchased electricity.

To really begin to reduce the effects of climate changes, managers must inventory greenhouse gas emissions. Measuring is the first step in managing, and managing is the key to reducing.
This Quick Read was submitted by Greg Zimmerman, executive editor, Building Operating Management. Read his recent story about the new LEED v4.1 rating system.
---
Comments